RC Rally Car Shootout – Durability
RC Rally Car Shootout – Durability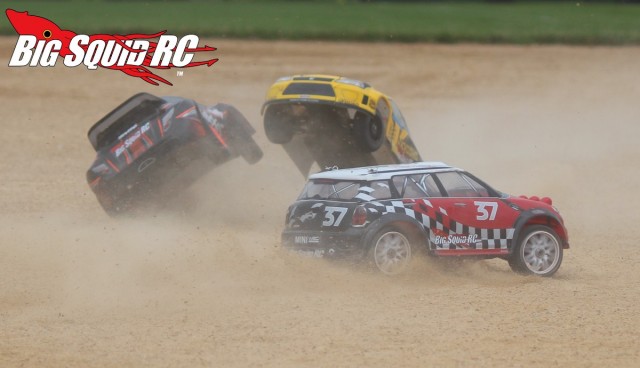 We know a lot of bashers buy their cars based on one thing- how tough they are. For durability testing we started with a full speed demo-derby in a large open area. The cars that survived then went on to being driven, then jumped, into a chain link fence at full speed. Finally, we drove the remaining cars full speed into a cement wall.
There are some awesome destruction shots here, so make sure you click them to see all the details!

Results-
| Points | Vehicle |
| --- | --- |
| 1 | Thunder Tiger Mini Countryman |
| 2 | HPI Ken Block WR8 |
| 3 | Kyosho Demon |
| 4 | Traxxas Rally |
Notes-
Thunder Tiger – The Thunder Tiger proved to be one durable beast. It didn't break during the demo derby, then we tried all sorts of awful stuff to destroy it with no issues. Finally, it took ramming it into a cement wall full speed to break the rear body mount and tower. The Thunder Tiger was the last vehicle still moving during our shootout, and if you are looking for the toughest rally car you can buy we highly recommend it.
HPI – The HPI was also one tough customer living through demo derby and several full speed jumps into a fence. When it came to the full speed slam into a cement wall it finally gave in and broke multiple front end parts and taco'ed the chassis.
Kyosho – During our demolition derby the Kyosho came to a halt with electrical gremlins. It was the second car to become incapacitated thus it came in third.
Traxxas – We broke a rear hub on the Traxxas Rally relatively early during our demolition derby, then cracked the chassis and bent the center drive-shaft, thus giving it fourth place.
Next category up is Ease of Use , click on over to see how we ranked them.