RC Rally Car Shootout – Features
RC Rally Car Shootout – Features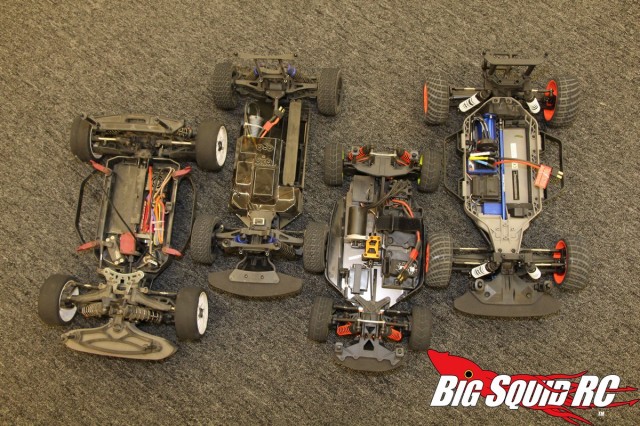 Certain features have started to become the norm, or just expected. Things like waterproofed electronics, a 2.4GHz radio system, oil filled shocks, and foam in the tires. While these things are not necessary to go out and have fun with your car,
they can make a difference when choosing one over another.
Results-
| Points | Vehicle |
| --- | --- |
| 1 | HPI Ken Block WR8 |
| 2 | Kyosho Demon |
| 3 | Traxxas Rally |
| 4 | Thunder Tiger Mini Countryman |
Notes- Picture this, 5 members of the Bash Crew standing around, all with different opinions on which features are the most important to them. All the rally cars in the shootout came with 4wd, 2.4 GHz radio systems and with burly brushless power
systems. The differences were in the details like having adjustable camber, waterproofing, metal vs plastic shock parts, and rock guards. Did the ESC have an available programmer, metal dog bones, plastic shock towers etc. We each had a list of things we wanted to see and argued till we were blue in the face and we all agreed on the final list.
Drum roll please, now it's time to find out who won, click on over to the Final Results!