Blue Groove RC Concepts – Heat & Press Air Scoop Review
From: Blue Groove RC Concepts
Direct Link: Blue Groove RC Concepts Heat & Press Air Scoop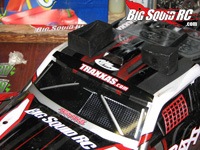 As bashers and racers, we are always looking for that little something that makes our vehicles different, and if there is a chance it can help your vehicle in a way, like keep it cooler, then all the better! The new Heat & Press Air Scoop kit from Blue Groove RC Concepts is going to help with all of that!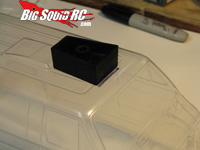 When we started reading the directions, it sounds like it's not to difficult of a project, and honestly, while it's not difficult, it's not easy either. Make sure you read those directions a few times!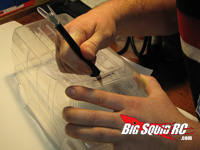 Since this project sounded like it was going to be some work, with the potential of really messing up a body, we found a older body we could get some practice runs on. In a nut shell, this is how it works… you measure up the mold you are about to press the body into, then you make a small slit to allow the lexan to shift and shape itself into the mold.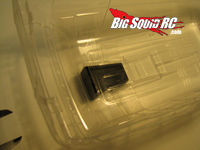 There are two parts to the mold. One goes on the outside of the body, then you use the other to press the body from the inside. You'll need to use a heat gun to soften up the lexan to a point where it can be molded. Blue Groove includes a bottle of cool gel that you spray on the body around where the scoop is going to be. Since you are applying a LOT of heat, you don't want to melt the other parts of the body. I'm not 100% sure how much a bottle costs to buy alone, but I recommend you do not skimp on this stuff! We did have 1 or two attempts not look so great because parts of the body not in the scoop melted a little more then we would of liked.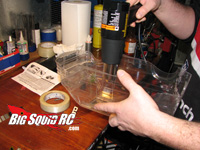 You now run through a series of HEAT and PRESS, HEAT and PRESS. Take your time with this! You are not going anywhere and either is the body. Don't try and rush it and get the perfect mold on the first press. We found that doing the heat and press cycle about 4 times really worked well!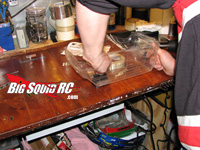 If possible, I highly suggest that you practice on a old body, or some old cut lexan you have laying around. Also, Blue Groove does not recommend that you use it on a painted body because the amount of heat needed will most likely cause the paint to bubble.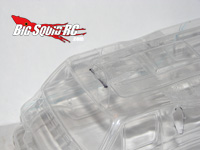 After a few practice scoops, we got a few good looking ones. It's a little tough to see here, but it actually looked decent in person. I'm not 100% sure if there are any rules against doing this for racing, but I could see how the cool air could really benefit some race engines and esc's!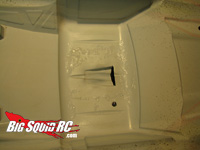 So we decided to try it out on a Traxxas Slash Body. We wanted to see how it would work on a body that had a wrap/paint job already applied, and also try and get some air down into my brushless setup on the Slash. We took our time, and did the heat and press cycle about 4 times, and wowza! It actually turned out pretty dang good!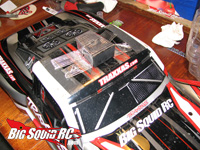 We used a dremel to smooth out the edges and cut a slight slant to the scoop which gave it a really nice look! We applied a bunch of the cool gel before we got started, and the wrap didn't burn or bubble at all! I really dig the look, and when I'm cruising along, it's blasting some nice fresh cool air right onto my brushless ESC!
Some final thoughts on the Scoop. It's really a good idea, and when done right, looks great! This is no easy project. It takes time and patience to get it right, so make sure you have a little time to practice. We found that two people on the project helped because one could heat up the body while the other stands ready to press the mold in as soon as the heat gun is removed. I will definitely be doing this to many more bodies in the future! Make sure to tell them Big Squid RC sent ya when you pick one up!
As with all our stuff, if you see me at a bash or at the track, feel free to stop by, say hi and check out the stuff! I'll give ya some stickers, and even let ya try stuff! (maybe… if you ask nice)
SUMMARY
Time To Bash – 6.0/10 -It's not quick. Take your time with this!
Workability – 7.0/10 – It's also not easy. Take a deep breath.
Car Show Rating – 9.0/10 – Very cool look when done right!.
Bash-A-Bility – 9.0/10 – Durable, and helps keep things cool!!
Big Squid Rating – 8.5/10 – Tentacles.. It's not easy. But the results can be really cool!