Caster Racing – Fusion EX-1 Review
From: Caster Racing USA
Direct Link: Caster Fusion EX-1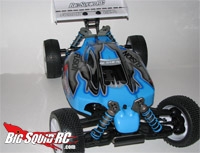 The Caster Racing Fusion EX-1 is an 1:8th scale electric buggy that is a good step ahead of any 'electric conversion' you could do to your nitro buggy. As our Pro Driver Tim Mohr has been preaching the last few years that the electric revolution is coming, I feel that it might finally be here!
The Fusion EX-1 arrived as a rolling chassis setup. So it was up to us to add the fluids, and all electronics. You should really start by getting the fluids out of the way while there isn't a lot of other stuff in your way. The tear down and rebuild of the front and rear diff's went fine, the center diff wasn't too bad to get to, but I did end up having the screws back out during our first run sending fluid everywhere inside. So make sure those center diff screws are TIGHT, and if you want use a little lock tight, no need for the super strong stuff.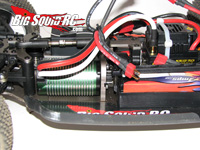 After getting the fluids out of the way, it was time to install the motor. The buggy is setup with very good balance in mind, and while the layout is ideal, it does not give you the most room in the world. We tested a few motor sizes, and there were a few that just didn't fit. They were either too wide and wouldn't mount, or the can was too long, and would not make the space between the motor mount and the front steering assembly. So before you go out and spend some big $$ on a motor, make sure it's going to fit in the space! We ended up using the NEU/Castle Creations Mamba Monster. We had to cut the motor shaft down with a Dremel to fit the space in front of the battery tray. BE CAREFUL during this step. Take your time, measure a few times, you don't want to mess that up! As you can see in this picture, the motor fits like a glove.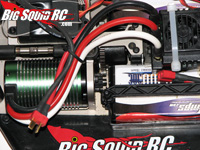 Getting the gear mesh perfect took some trial and error because you can't really adjust the motor with the battery trays in the way. After taking the motor in and out a few times, I had one of those 'DUH!' moments, and removed the battery tray! This made things easier.
LOL.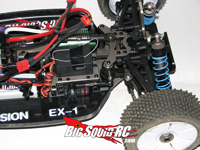 Another build tip, the directions say to build the steering with the servo arm facing the inside of the buggy. While this might be 'idea' for weight distribution, it's not easy to work on, so I reversed it and put it to the outside. The steering is smooth and does not seem to have any issues being mounted this way, so I'm happy with it in this position. Your millage may vary.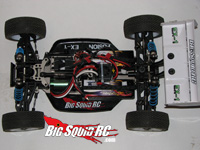 After the motor and steering was installed, the speed control and receiver installation went pretty smooth. Make sure to use a zip tie or something to help keep the ESC mounted and stable. These buggys take some tough hits, and you don't want your ESC bouncing around on the inside.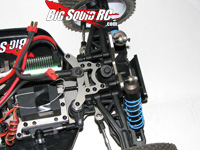 We used two Max Amps 6000 LiPO packs for testing. Everything fit good, and we were ready to roll! Actually, as it turns out, I wasn't ready for the amount of power this system was going to kick out! The Mamba Monster dishes out some amazing power, and the Fusion buggy just ate it up! This really seems like a good combination. After many tests, and some BIG air, I was very pleased that the drive train could hold up to the strain.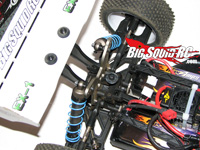 I have taken the buggy to the track a few times now, let a few people get their hands on it, and everyone's first thoughts are 'Wow it handles nice in the air!' and it does! The way the layout is setup with the batteries and motor, the balance in the air is amazing! It's extremely easy to keep the body level and tilt it perfectly for those 4 point landings!
While I'm not the best driver in the world, I had no problems landing wheels down every time. Steering is good, smooth and tight, and just feels right cruising around the track. We did bust a few small parts, one rear caster, one battery box, and a rear wing. Though I think we are gonna blame the cold for the wing since it was freezing during our first tests. These are all minor things, and for the rough driving/landing we do, there's nothing surprising here. The Fusion is really easy to work on, and we were always back up and running in no time! Our local track usually has some pretty big jumps (4 foot +) giving you some huge air, so I would recommend going with some stronger springs. The ones that come with it are soft, and good for smaller jumps and traction.
To wrap things up, if you are looking to get into the 1/8th scale buggy electric scene, you will want to look at a Caster! The layout and balance is better then anything you are going to get from an electric conversion. The buggy is easy to work on, super fast with this setup, and a blast to drive! Stock up on a few extra parts since your track might not have them in stock, but ordering on line is easy and quick!
As with all our stuff, if you see me at a bash or at the track, feel free to stop by, say hi and check out the stuff! I'll give ya some stickers, and even let ya try stuff! (maybe… if you ask nice)
SUMMARY
Time To Bash – 7.0/10 – It's not a complete kit build, but there is some work to do.
Workability – 9.0/10 – The buggy has been easy to work on, and easy to fix.
Car Show Rating – 8.5/10 – A 'quiet' 8th scale buggy gets some attention. It's fast and fly's great!
Bash-A-Bility – 7.5/10 – We have busted a few parts during testing. All small stuff, no MAJOR issues.
Big Squid Rating – 8.5/10 – Tentacles.. If you are looking at getting into 1:8 scale electric, there is a Caster in your future!