DuraTrax Deluxe Hauler Bag Review
From: Duratrax
Direct Link: Duratrax Deluxe Hauler Bag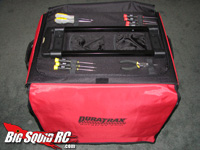 It's called the Duratrax 1/8 Deluxe Hauler Bag, and is ready to tackle all your RC hauling needs! Let me start off by saying this thing is HUGE! It's about 24 inches tall, 25 inches wide, and 19 inches deep.
It has a zipper top compartment that stores some tools, has a couple of pouches for miscellaneous items, and a retractable handle that can slide out and be zippered around for making it easier to haul it around. If you are really doing some traveling, it has a place for a name/address tag for flight travel.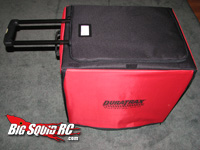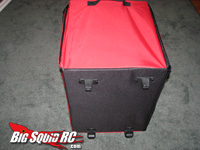 The inside drawers are made from corrugated plastic, not cardboard, and need to be assembled when they arrive. It only took a few minutes to figure out how they needed to go together, but I think we would of liked to see a simple 1 page instruction sheet. It was easy to do if you have seen one of these before, but if this is your first hauler bag, it might take you a few minutes to get it together.
The compartments are plenty big! Here you can see we were able to get the new Evader Ext 2 in one of the smaller drawers, and the Duratrax RT-X Monster truck in the larger drawer! It was a snug fit, and most likely you would take the wheels off first, but we wanted to show that it could fit.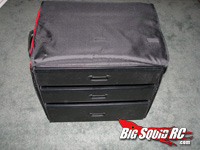 The two smaller drawers are great for spare parts, tools, radios, or even 1/10th scale trucks as you can see. We suggest going out and getting a few small 'parts' boxes to put in one of the drawers to keep things organized! It you have one or two vehicles that you like to take with you everywhere, this bag is ideal! There is enough room for parts, tools and the vehicles! The wheels and handle make it easy to drag around with you, and the drawers hold up pretty well to all the moving around.
If this is the year you say "This year, I'm gonna get organized!", the Duratrax Deluxe Hauler Bag will be a good start to that goal!
As with all of our stuff, if you see us at the track, stop by, say hi, and maybe we'll let you take a spin. At the very least, you'll walk away with some stickers.
SUMMARY
Time To Bash – 9.0/10 – Some assembly required, but nothing major.
Workability – 9.0/10 – The drawers are good, and room for tools!
Car Show Rating – 8.5/10 – Looks good, could use some flames. 🙂
Bash-A-Bility – 10/10 – No problems yet hauling it around from place to place.
Big Squid Rating – 9.0/10 – Tentacles.. It's not the cheapest on the market, but it's one of the biggest, and when it comes to hauling, bigger is better!