Duratrax Gatekeeper Mini GC-3 Chassis Review
From: Duratrax
Direct Link: Duratrax Gatekeeper Mini GC-3 Chassis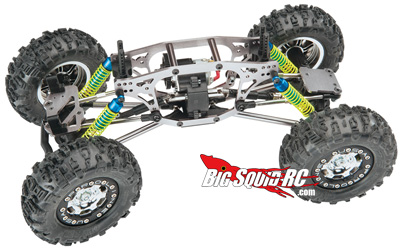 So RC Rock Crawling looks like it's going to stick around for a while. It took off pretty quick, but there was more than a handful of people who thought it probably wouldn't last long. Well it did. So if you are like many in the RC community, you ran out and bought yourself a crawler!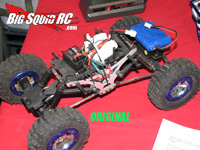 A while back, Losi came out with their Losi Mini Rock Crawler. It's a 1/18th scale rock crawler. Now while it wasn't a bad crawler for it's size and price, it just wasn't really made to be competitive. It felt more like a toy then a rc hobby grade vehicle. In steps Austin "Gatekeeper" Dunn. He designs a new chassis that takes your Losi Mini Crawler and converts it into a competition level 1.9 vehicle.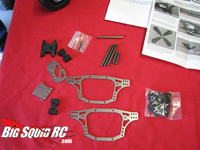 The kit comes with all the parts you need to do the conversion. Now while it does not look like a lot of parts here, I'm going to warn you now, this isn't a quick conversion. It's not longer then someone should suspect, you just need to realize you are disassembling the entire vehicle, and reassembling it again with a completely different configuration.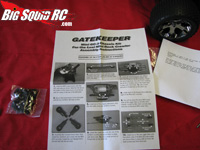 The instructions for the most part were clear and concise. Remember to take your time, read over the directions carefully, and check the pictures out. Don't go all basher like and toss out the directions. You are going to need them!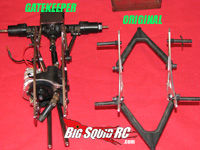 One of the first steps is stripping down the old chassis, and assembling the new one. One of the really surprising things during the build is how much thinner the Gatekeeper chassis makes the vehicle! Before assembly, I never would of guessed at the difference it would actually make.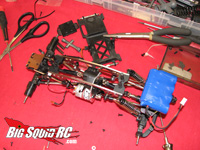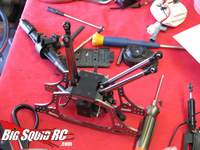 The new lower links make a huge difference in flexibility and precision. There is also a skid plate on the bottom. The repositioning of the components help with the center of gravity, and allow you to feel like you have much better control of the truck.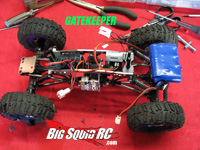 The new vehicle not only looks 100 times better, it handles a lot better! On and off the rocks the difference was quickly seen. Our degrees of steering had greatly increased, our flex and twist had also increased giving us a vehicle that felt much more like a true 2.2 vehicle then just a mini toy version.
If you happen to have a Losi Mini Rock Crawler laying around, and you want to spend a little more money to bring some life back into it, you should seriously consider the Gatekeeper Chassis conversion.
As with all our stuff, if you see me at a bash or at the track, feel free to stop by, say hi and check out the stuff! I'll give ya some stickers, and even let ya try stuff! (maybe… if you ask nice)
SUMMARY
Time To Bash – 6.5/10 – It's a slow process, but no slower then expected for a full chassis conversion.
Workability – 8.5/10 – It was a pretty good build, and the results are good.
Car Show Rating – 9.0/10 – Looks a lot better then the original!
Bash-A-Bility – 9.0/10 – Maybe that should be craw-ability. It handles night and day better then the original chassis.
Big Squid Rating – 9.0/10 – Tentacles.. While it's not as good as a true 2.2 feel, it's a lot closer then the original Losi was!