HPI Savage Flux HP Review – RC Monster Truck
From: HPI Racing
Direct Link: HPI Racing Savage Flux HP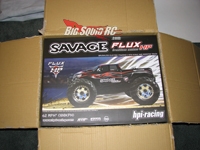 Since the big HPI Racing box showed up on our door step just a few days after Christmas, it was like Christmas day all over again! Santa really does read those wish lists, and his elf's have scored us a HPI Savage Flux!
The first thing I noticed was the packaging. Instead of the normal high glossy box, this one was more of a flat matte look. Personally I am good with this. It gave it more of a 'tough' feel. This was no toy my friends, this is a piece of machinery, disguised as a RC Monster Truck!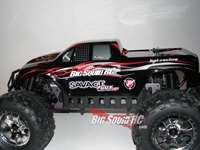 I have posted a slue of un-boxing pictures, similar to what we did with the Savage XL un-boxing, so feel free to check those out also. Some of the pictures in the review will be the same, some are new and different. I'll post more at the bottom. Also posted some Savage Flux video down at the bottom.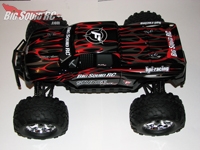 One of the first things you will notice out of the box is the awesome tribal flame paint job. It's a real head turner, and one of the nicer production paint jobs we have seen in a while. While running it at our top secret test location (Hi to the zillion people who came up and checked it out at the track!), there were a lot of 'Ooh's and Aah's' while discussing the paint.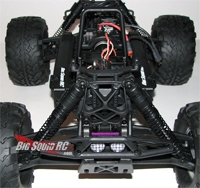 The next big thing to notice, SINGLE SHOCKS! Ok, I'll give you a second to climb back into your seat. A Savage with single shocks? Has HPI gone mad!? Well, let me tell you, not only do they work, they work great! From the factory they came with a serious pre-load, and we have found for our bashing style, this is working out well. We have had the truck high in the air, landing on all fours and several very awkward landings, and they are holding up well. Fear not, and be thankful that your shock maintenance time has been cut in half.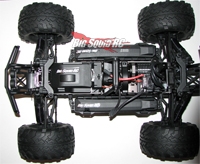 Next up in the NEW and Different department, the battery boxes. There is a large box on each side of the Flux to keep things nice and balanced. The boxes are plenty big to hold just about any size packs you can get your hands on. For our first tests we were using 2x 2s 5000mah lipo packs from Racers-Edge.com. We figure this will get us some good run time, and a decent amount of power. The truck can handle 2x 3s packs for a total of 6s for insane power and speed!
While the battery boxes close ok, and come with some little rubber tabs to keep them closed, I found things a little more secure and easier to open and shut with our little zip-tie mod seen here. Sure you have to cut them off to open them up, but they kept the batteries secure where they belong. The tabs on the boxes have small holes in them, perfect for the zip-ties. Remember kids, zip-ties fix EVERYTHING!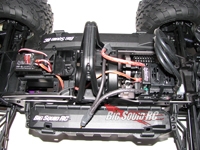 Onto the power plant! The Savage Flux is a brushless monster truck. It's using the HPI BLUR brushless speed controller and the HPI TORK 2200 brushless motor. (For those who need to know, yes the rumors are true, and yes it is.) This ESC and motor combination is incredibly powerful!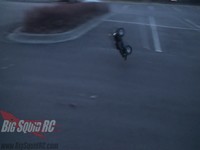 When I first picked up the truck, my thoughts were.. wow.. this thing isn't light. How the heck is that motor gonna move this beast? Well it moves it with ease! The video online with the standing backflip.. totally doable! No camera tricks there. Even on 4s I was having trouble keeping any of the wheels on the ground!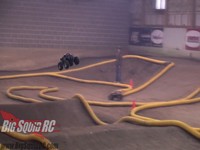 At the test track we were skying over the jumps! The double and triple? Pfft! It took a steady trigger finger to keep that monster in the building! Without a run-up we could clear any of the jumps, and on the straight-away we were keeping up with the buggies! The truck was a blast to drive, and handled extremely well. It took some practice to keep from popping wheelies on the straights even when you were halfway down them. The single shocks preformed great, and I haven't had that much fun pulling the trigger on a monster truck in a long time. So long to the truggy craze, I think it's time to usher in the electric monster truck phase!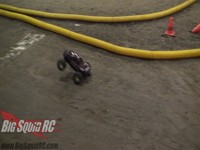 Pro Driver, and good friend Tim Mohr has been pushing the electrics pretty hard for the last few years with the availability of the brushless motors, and I am finally willing to accept his shoving with the creation of the Savage Flux! Finally I have the ultimate basher vehicle. It's super fast, durable, and easy/quick to run. Once in a while, we are at a location where we want to just do a quick amount of bashing, and don't want to take the time to dig out the nitro stuff, and fuel. With the Flux, I can turn it on, and I'm ready to take on the world!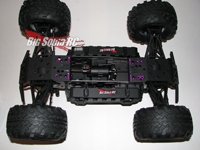 As we wrap up this review, a couple of notes. First, it's not the quietest electric vehicle on the plant. As a matter of fact, those giant steel gears that make up the drive train are rather noisy. From what we can tell, this is perfectly normal. We have been beating on the gears for a while with no visible wear or tear. It's a little hard to get used to, but after 20 seconds and the huge grin on your face, you will forget all about the gear noise. Second, tighten down the lock nut on the slipper spur gear. This truck is a power plant! It will come loose and your spur will be spinning like a top. I think the manual says to back it out a little, I wouldn't. Oh yea, install that wheelie bar! You are going to need it!
Are you an electric guy? This IS the vehicle you have been waiting for! Are you a nitro guy? This is the vehicle that may change your mind. When your friend is hitting 60+ mph with an out of the box stock truck, you are going to shed a tear. This truck may be the ultimate bashing RC monster truck! It's so much fun ripping up the parking lot, and the truck can take such a beating, I highly recommend you start saving your pennies!
As with all our stuff, if you see me at a bash or at the track, feel free to stop by, say hi and check out the stuff! I'll give ya some stickers, and even let ya try stuff! (maybe… if you ask nice)
SUMMARY
Time To Bash – 8.0/10 – Charge batteries, add wheelie bar, and go.
Workability – 9.5/10 – The truck is pretty easy to work on, shares a lot of parts with the Savage.
Car Show Rating – 9.0/10 – Great paint job, looks tough.
Bash-A-Bility – 9.5/10 – While shooting for back flips we had some hard landings, haven't broken a part yet!
Big Squid Rating – 9.5/10 – Tentacles.. Quite possibly the ultimate basher rc monster truck! What a blast this vehicle is!
Click here to see all of our Savage Flux un-boxing pictures we have posted.
We wanted to throw a little video together of the HPI Savage Flux HP in action. It's not the best video, but for those wanted to see it in action, here ya go! We will get something a little better as we get some more footage. Enjoy!