HPI Savage XL Review – RC Monster Truck
From: HPI Racing
Direct Link: HPI Racing Savage XL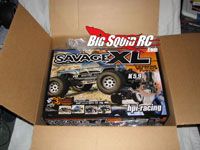 When I opened the box to find my shiny new HPI Savage XL, I was like a kid on Christmas morning! I just wanted to shred everything that was in the way, grab the truck, and go outside and play!
Over the last week or so, I have posted several articles to help cover my Savage XL experiences. From un-boxing to it's first Day at the Track. I have taken a bunch of pictures, and I will post them towards the bottom, if they don't all make it during the review.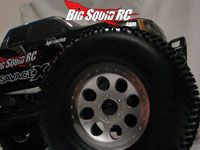 This truck is a true monster! It's bigger then just about anything you can buy off the shelf right now, and it's not just all rim and tire. After getting it out of the box, checking the manual for anything I should be made aware of, it was time to start the break-in process.
It comes with the new Roto-Start 2 comes with a longer shaft and a built in circuit breaker to keep you from damaging anything if you flood the engine. This is must have technology, anyone who is still using pull starts just like the blisters and suffering. I charged the 5-cell battery pack which comes with the vehicle (nice!) and was ready to go.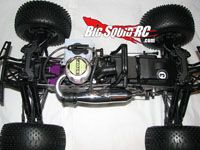 I was extremely pleased with the way the vehicle started up quickly and had little problems getting through the first few tanks of fuel. After several more break in tanks out in the parking lot, it was time to head over to the track. Remember, just because you bash, does not mean you can't support your local track!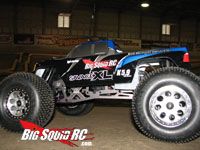 Walking with this truck got all sorts of attention. It wasn't long before a group of people were huddled around the pit table, comparing it to other trucks and asking all sorts of questions. After talking to everyone about the short experiences I had with the truck so far, it was time to watch it fly!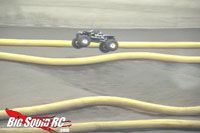 Feeling the truck on the pit table, I was worried that it might be a little springy, and was unsure how it was going to handle out there. I'm happy to report it passes our flight test with flying colors! Once I was used to the trucks handling and the track layout, I was having no problems getting around the track and landing some big jumps.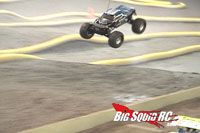 The huge motor in the Savage XL has so much torque, it was easy and fast to correct any problems mid flight. We were still working on dialing in the engine, and noticed that 2nd gear was a little late in the shift point. I was a little unsure when I found out that only the third gear shift point could be adjusted from outside the vehicle, and I was going to have to take out the transmission to adjust 2nd gear.
Amazingly enough, this huge vehicle is easy to work on! It only took 3 screws, a few minutes and the transmission was out and ready to tweak. You need to remove a few gears to get to the adjusting fastener, but I had it apart, tweaked and back in the vehicle in under 15 min. Not a bad time for the first time it was removed. Ask me how many hours I worked on my first t-maxx transmission upgrade! For a basher who does not need 2nd gear to be absolutely perfect, this isn't a big deal, but if you are a racer, you will probably be inside this trans a few times to get it all right.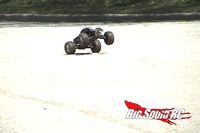 A few days later, it was off to a local bash. There was more head turning, lots of questions, and lots of very happy people. Once dialed, this giant truck could wheelie on command! I was again surprised by the torque in this thing. I could of used a wheelie bar because I ended up on my lid a lot just racing in the parking lot. Our top speed was in the low 40mph range which is great for a truck this size. I'm pretty confident that with a little more tweaking of the trans and dials, mid 40's will be no problem, and I'm only running 20% nitro!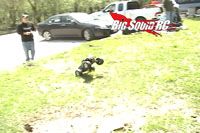 The trucks huge tires made it easy to run around the grass field at a good speed and the acceleration was everything I could of asked for as I hit the huge ramps at the bash. Again the massive torque made it easy to adjust in the air, and it sailed smoothly.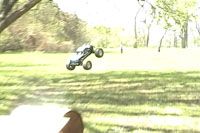 Like most bash events, as time goes on, the air gets bigger and the driving gets braver. I hit the ramps hard and had more then my share of bad spills along the way. After several tanks of gas, I was averaging about 12 minutes of run time per tank of fuel. I think this is pretty good for the size of that thirsty engine!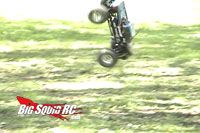 Finally, after many spills and thrills, the plastic end that connects to a ball joint on the back of the truck gave out. It didn't even break, just stretched! Nothing a few zip ties couldn't help fix.
So lets break it down and see what we have.
The Good: Huge truck, strong motor, wheelies on command, good speed, and the durability you can expect from a HPI Savage! Roto-Start 2, BIG wheels, easy to start and get running, 5cell hump pack, steel gears!
The Not so good: What is the deal with the plastic swing arms that keep the rods in that hold the a-arms in place? After my 2nd run with the truck one rod was backed out more then half way. I zipped tied the things together in the front and back to fix the problem. Easier Access to the Roto Start. Trying to start with the body on caused some wear and tear on the rear of the body. AM Radio? Really?
Would of Liked: Threaded shocks, a larger gas tank (there is room enough in the back of this thing for some luggage and a nice stereo system!), and a fail safe. All things I would of liked to see for a truck of this caliber at this price. These things are not deal breakers, just items that would of been nice.
If you have a RC Monster truck in your future, this IS the truck! It's everything you could ask for in a basher vehicle! A ton of people that I have shown the truck to in the last week have told me they are now going out to get one! You don't want to be 'that guy', the one without the Savage XL at the bash!
As with all our stuff, if you see me at a bash or at the track, feel free to stop by, say hi and check out the stuff! I'll give ya some stickers, and even let ya try stuff! (maybe… if you ask nice)
SUMMARY
Time To Bash – 8.0/10 – Charge batteries, break-in, and go.
Workability – 9.5/10 – This truck is EASY to work on, and shares some easy to get parts with the Savage.
Car Show Rating – 8.5/10 – Bigger IS Better! Could use a little bling
Bash-A-Bility – 9/10 – I made some very hard landings and tumbles and was never out of commission for long.
Big Squid Rating – 9.0/10 – Tentacles.. RC Monster Trucking is going to make a good come back with a truck like this! Truggies are so 2006! 🙂