Kershaw Designs Gen 2 – 1/10 Scale Brushless System Review
From: Kershaw Designs
Direct Link: Kershaw Designs 1:10 Scale Brushless Combo
Cost: Only $99.00!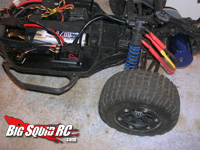 Kershaw Designs is a small company, mainly known for their conversion parts, but now they've stepped into the brushless game. Is their brushless system worth a try?
I installed it in our BigSquidRC test HPI Blitz to check it out, so read on…
The Kershaw Designs speed controller was easy to set up to my radio system. I was using a Futaba 3PKS, and after simply pressing the set-up button on the switch, I went full throttle, then brake, then neutral and it was programmed and ready to be driven.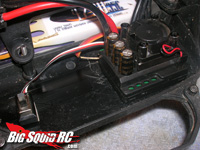 Speed Controller Notes
Reverse– Reverse was a bit soft, perhaps making it hard to get out of a sticky situation, but it felt quite linear, and had brake at the end to keep you from continuing to roll backwards.
Brakes– Not too soft, not too strong, they felt good right out of the box. The brakes also had a nice linear feel, if you applied a small amount of brakes, you only got a little, if you slammed the trigger full stop, you could lock up the tires with authority.
The Kershaw speed controller felt like there was a tiny bit of drag brakes dialed in while at neutral. This helped keep your car/truck from rolling while at a dead stop, and was barely noticeable while driving.
Forward Feel– Throttle feel from a dead stop was good, but once in a while there were conditions where it would be slightly jerky. There were also situations while driving when the motors rotor would be at a dead stop while your car/truck was still in motion, like after hard braking while sliding around the apex of a corner, or when tapping the brake in the air before powering down a landing ramp, where it would feel slightly jerky when throttle was reapplied. Otherwise, the throttle feel was quite linear and smooth.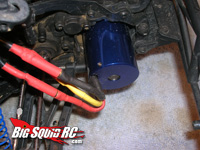 Motor Notes– I was supplied with the 9L 2700kv motor for testing. This motor is 36 mm in diameter, but is longer than others in this category by around 10 mm. The motor I tested used the same motor screws as a typical 540, and had a 1/8″ output shaft, making the motor very easy to install. The wires coming out of the motor are the actual motor winds, so you shouldn't cut them unless you know exactly how to re-solder to them. The Kershaw 9L weighs in at 274 grams, a typical shorter canned 10th scale sensorless motor weighs in around 195 grams. The extra length may cause mounting issues in certain vehicles, but bolted just fine into our HPI Blitz. The extra weight of the Kershaw brushless motor seemed to suit our test HPI Blitz very well, as it actually seemed to drive and corner better with the 9L motor in it.
Power– I didn't see any wattage numbers, but the Kershaw 9L puts out big power, and even bigger torque. The 9L is a low kv motor, right around where a 17.5 "stock" motor would be, so I used a 2S MaxAmps 6500 Lipo, and geared the truck conservatively at 25/88. This set-up yielded low electronic temperatures, yet had plenty of wheelie popping torque and decent top end. With that set-up I ran 3 packs back to back in fairly tall grass, up and down hills in 90 degree plus summer heat, with the motor temp ending up at 155 F, and speed controller temp of 120 F. I got 18 minutes of runtime with this set-up, not too shabby.
The Kershaw 9L system was ment for 3S use, so I then popped in a MaxAmps 3S 5250 MV pack and re-geared the truck at 20/88. This set-up yielded even more wheelie power on the low end, and was a lot faster on the top speed. I didn't run the system in grass on 3S, just on pavement and dirt, with temperatures of 145 for the motor, and 110 for the speed controller, but it must be noted that the ambient temperature during the 3S testing was 20 degrees less than during the 2S testing. 3S testing is also where I started blowing spur gears, the 9L has a Lot of torque, enough that normal 48 pitch gears can not really withstand all the power. If you need more top-end there is a 2S version as well that gets you more speed, but less torque. They also have an available programmer for only about $15! So if you pick up one of these setups, I recommend making your life easier and grab a programmer as well.
Things I Would Change- While the throttle feel is very good, I'd like to see it slightly smoother than from a dead stop.
Overall- Is this system worth $99? Yes, it drives well and puts out a lot more power than the price point would elude to.
As with all of our stuff, if you see us at the track or at a bash, stop by and say hi! We'll probably let ya drive/test whatever we seem to have our hands on. At the very least you'll get some stickers out of it.
SUMMARY
Time To Bash – 8.0/10 – Install Motor and ESC takes time, setup was quick.
Workability – 8.5/10 – Not too bad to deal with. But these things can always be easier with a ESC programmer.
Car Show Rating – 7.0/10 – Nothing special, no bling here.
Bash-A-Bility – 9.0/10 – Even tore up the grass well without getting hot!
Big Squid Rating – 8.5/10 – Tentacles.. It has plenty of torque and a price point that can't be beat for the power you get.
Watch for our Kershaw Designs 1/8th scale review coming soon!