Overdose Racing – Car Stand Review
From: Overdose Racing – Overdose Racing
Review By: Brian S.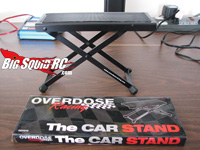 One of the newest and most original products to be introduced at the iHobby expo this year was The Car Stand from Overdose Racing. We finally got our hands on one, and put it to the test!
One of the coolest features about the stand is that it folds flat, and it does it quickly and easily! I know there are a lot of people out there with their PVC stands (I'm one of them!) saying, this cost me $5 in PVC, and it's fine.. I used to think the same thing. But since we do a lot of traveling for testing, or shows, or events, I'm always taking apart the PVC to make it smaller, then when I get to the location, I'm trying to find all the corners, and put the thing back together.. well with the Overdose stand, all of that headache is gone! I can fold it down, toss it in my tool box, and move on! Awesome!
The stand has a ton of adjustable heights and has a really good rubber no-slip top. It's strong, made of steel, and as you can see from the pictures, is works good with any RC vehicle you may have laying around that you need to work on.
At it's highest setting, the stand gets a little un-stable because the base gets more narrow. This isn't an issue because we didn't find a single vehicle that needed to be that high to get the wheels off the ground. After using the stand on more then a few occasions, I have to say that I'm a big fan. If you use your RC anywhere outside your garage, leave the PVC at home, and pick yourself one of these stands! It's worth the extra few $, and the portability is great!
I think the only thing missing would be some sort of rotating/locking top. Yes I'm too lazy to just rotate the stand! LOL.
For more information on the Car Stand, please visit www.OverdoseRacing.com
As with all our stuff, if you see us at a bash or at the track, feel free to stop by, say hi and check out the stuff! We will give ya some stickers, and even let ya try stuff! (maybe… if you ask nice)
SUMMARY
Time To Bash – 10/10 – Take it out of the box, and set it up!
Workability – 10/10 – Adjustable heights are nice. Super Portable!
Car Show Rating – 8/10 – Not flashy, but looks good. Color choices would be nice.
Bash-A-Bility – 10/10 – Held my breath when we put the 5B on it, but it did fine! No problems tossing it in the tool box.
Big Squid Rating -9/10 – Tentacles.. It is a must have tool in your Pit Box!