Pro-Line Caliber SC Tire Review
From: Pro-Line Racing
Direct Link: Pro-Line Racing Caliber SC Tires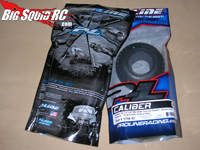 As Brian was walking by a few weeks ago he smiled and chucked some tires on my immaculately clean desk. "Review these!" he shouted in his most bellicose tone. I figured I had two options, the first being to review them the magazine way, which means to mount them up, take some pics, then make up the review. Or, I could review them my way, meaning to run the sh!t out of them till they no longer resembled how they showed up on my desk. Of course I chose MY way.
Pro-Lines new Caliber Short Course tires are considered the tire of choice at a LOT of tracks around the country. They feature a "new era" dual stage tread design, way super dope closed cell inserts, and lots of internal sidewall bracing. Your price may vary, but you can pick up a pair for right around 20 smackers.
Where do the Caliber SC tires work well at? Well, they are a two stage design, so if they are new and have the small top pins intact, they are optimal for dusty tracks, tracks with small diameter loam on top, and on watered tracks. If you've worn off the small top pins, they become a great tire for blue groove and hard pack.
I ran the Calibers at a half dozen tracks, most of them outdoors, and indeed, they lived up to their billing as the tire of choice at those tracks. For instance, when driving on the hard pack but dusty outdoor track at Leisure Hours in Joliet Illinois, the Calibers gave more mechanical grip, especially side bite, than any other tire I tried. The top pins are well designed to penetrate the top layer of dust/fluff and find traction in the process. Next I hit the outdoor track at Deweys RC in Springfield Illinois. Deweys wasn't nearly as hardpack and had lots more loam on top than Leisure Hours, yet the Calibers also provided more grip than any other SC tire on the market.
When the top pins wore off, I tried them on harder pack tracks without fluff on top. The very hard, moist, indoor clay track at Leisure Hours showed that the dual stage design really did work, as the worn Calibers offered better mechanical grip than a new set did on that type of surface. With the top pins worn off, I was then driving on the second stage of the pin that offers more surface area and still features a lot of corner edges.
Ok, ok, I know, this is a bashing site. So would you want these for bashing? You won't want the Caliber SC's if you run on pavement. They weren't designed for street running, and if you run them on pavement, expect extreme tire wear. But, if you run on dirt or grass, the Calibers give great traction. What about mud? Well of course I did some mud bashing with the Calibers, but I found their knobs are too close together to clean out quickly. Never fear, as the Pro-Line Trenchers work really well in mud if that's your thang.
To boil it down- Pro-Lines Caliber SC's live up to the Pro-Line legend, and are the tire to beat at many outdoor tracks. There are a lot of SC tire choices on the market, but the Calibers work better on the majority of tracks than any other tire out there.
YOUR Cub Reporter
SUMMARY
Time To Bash – 8.0/10 – Glue em up! Get it right.
Workability – NA – Nothing to do here
Car Show Rating – 7.0/10 – Nothing special to the look!
Bash-A-Bility – 7.0/10 – Dirt or Grass, pins wear quickly on pavement. Great for Racing!
Big Squid Rating – 9.0/10 – Tentacles.. If your racing in the dust and fluff your dialed, then when they wear, use em on the hard packed tracks.