Pro-Line Pro Trac Suspension Kit Review
From: Pro-Line Racing
Direct Link: Pro-Line Racing Pro Trac Suspension Kit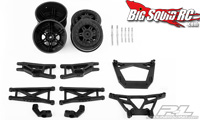 So we have been beating the heck out of the Pro-Line Pro Trac Suspension Kit on our Traxxas Slash, and we can honestly say we were pleasantly surprised by it's abilities. Out of the box, you get a decent amount of parts for your money. Front and rear a-arms, shock towers, hub carriers and four rims.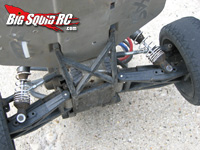 The install went really smooth, and was simple to do. We actually did it while we were at the track one night so we could get in a bunch of laps, add the hop-ups then get back out on the track to see how it felt. Without making any major adjustments (well, besides changing the entire suspension) the Slash handled completely differently. During the build we were discussing if it would be noticeable or not, and it really was!
Cornering was tons better, it almost felt like you added a anti-sway bar. The truck wasn't rolling over as easy, and we could get more power out of the corners without having to worry about the consequences. The system worked well and pushed hard to keep the tires on the track.
Jumping also had a different feel. The suspension looked a little more realistic during the launch, and we would come off the jumps a lot more level than before. Earlier we were trying to keep the nose down so we wouldn't just sail like a kite in the breeze, and now were were traveling through the air like a dart.
The only negative about the system is that you have to use their Pro Trac wheels (rims) with this kit. Not that they are bad, the rims are good quality, just like other Pro-Line rims but we have so many tire and rim sets, it's nice to be able to swap them to test stuff out, but now your pretty much stuck using these rims.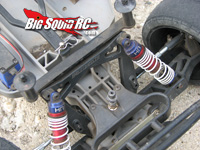 After beating on this system for over a month, we haven't broken a single part! That is impressive! The beefier arms and towers held up to whatever we could throw at them. Even our weekly demo derby's!
Overall the system works very well. It's a nice upgrade from stock, and unlike most other 'hop up' parts that are about the bling, these actually help! If your looking to give your Traxxas Slash suspension a tune-up, make sure to check out the Pro Trac system!
As with all of our stuff, if you see us at a bash, or at the track, and you want to check something out, all you have to do is ask nicely! At the very least, we'll get you some Big Squid RC stickers.
SUMMARY
Time To Bash – 8.0/10 – There is a decent amount of work here, but it went smooth.
Workability – 8.5/10 – There is a fair amount of adjustments you can make to get the feel your looking for
Car Show Rating – 7.0/10 – Nothing special!
Bash-A-Bility – 10.0/10 – Taken a good beating for without a single breakage!
Big Squid Rating – 9.0/10 – Tentacles.. A good hop-up to fix up that stock Slash suspension. Takes a pounding! Would of liked to use any rims.