Pro-Line Racing Holeshot Tire Review
From: Pro-Line Racing
Direct Link: Pro-Line Racing Holeshot Tires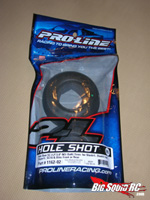 Once again Brian has twisted my arm to write a review. I like writing reviews about as much as I like licking porcupines, but being the great guy that I am (LOL), I step up my game when required.
So short course trucks are the hot thing right now. And the number one hop up for any truck? Tires! So here we go…..
Pro-Line Holeshots have been around for many years and have won title after title on tracks across the globe. Holeshots are a multi pin tire, that typically work well on hard pack tracks.
For testing, I enlisted the BigSquidRC HPI Blitz ESE , the creme of the 2wd SC crop. For power, a Castle Sidewinder speedo with a Castle 5700 kv brushless motor, and a MaxAmps 2S 4200 Lipo were used. I ran the Holeshot SCs on a variety of tracks, ranging from the moist clay of the Leisure Hours Raceway indoor track in Joliet Illinois, to the bone dry hard pack of the RC Outlaws track in Collinsville Illinois.
Older, tenth scale Holeshots were notorious for losing rows of knobbies. Sometimes this was caused by driving on dry, hard pack conditions, but most of the time this was caused by reckless drivers pinning the gas while on the pipes at a track (whiskey throttle!). You see the knobbies survived just fine in dirt, but would come off quite easily when spun on plastic track piping. I did not experience this problem with the new Holeshot SC tires.
The Holeshot SCs come with uber inserts. The included inserts are the new closed cell foams that last a long time and don't degrade when wet. Some drivers do not like the feel when driving on the closed cells, but you can't argue with the added mechanical grip you get when using them, or with how easy they are to install (no more trimming of the foam or being lumpy after insertion!). I am one of the types that loves the new era of closed cell foam inserts and I prefer the feel of a truck with them installed. I prefer the way they feel in the rough, and how they rotate in corners.
On the moist clay of the Leisure Hours indoor track, the Holeshot SCs felt incredible. The Holeshots gave more overall grip than any other tire I've tried there, and I've tried them all. They had loads of mechanical grip, with a nice blend of side and forward bite. Definitely a very easy to drive tire with lots of traction. Wear was incredibly good on the moist clay track. Outdoors on the baked hard pack at RC Outlaws, overall grip was greater than any other tire that I tried (Calibers, Goosebumps, and Bow Ties), and wear was less than any of the other tires except the Bow Ties. Some tires give a lot of forward bite, other a lot of side bite, the Holeshots offer a nice blend of both.
If you are a basher, the Holeshots would make a great choice on hard dirt, dusty hard pack, or hard pack with a bit of loam on top. Stock SC tires can't come close to the levels of mechanical grip the Holeshots will give you in those conditions. In grass, the Holeshots are not optimal, for those conditions the Pro-Line Trenchers will be your weapon of choice. One area you won't want to run Holeshots on is pavement. The tiny pins that give you a huge advantage on dirt will wear off quickly on pavement. If your bashing includes runs on pavement, the Pro-Line Bow Ties are a better choice.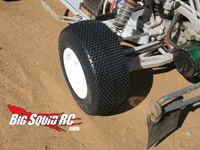 Overall the Holeshot short course tires are what you've come to expect from Pro-Line, a great race tire. Todays Holeshots are better than ever, with better wear characteristics, great inserts, and exceptional grip. I love to criticize, hell it's what I get paid to do, but I wouldn't change a thing about these tires. Used in the environment they were intended for, they have no equal.
YOUR Cub Reporter
SUMMARY
Time To Bash – 8.0/10 – To glue takes time, go slow, do it right.
Workability – NA – Nothing to do here
Car Show Rating – 7.0/10 – Nothing special to the look!
Bash-A-Bility – 7.5/10 – You are not going to take these tires everywhere. Keep em on the dirt. Great for Racing!
Big Squid Rating – 8.5/10 – Tentacles.. If you use them for their intended purpose, dirt racing, these are near the top of the list.