Pro-Line Trencher SC Tire Review
From: Pro-Line Racing
Direct Link: Pro-Line Trencher SC 2.2 Tires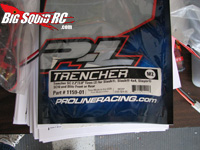 Recently we got our hands on the Pro-Line Trencher SC 2.2 Tires #1159-01. Over the last couple of weeks we have been putting these new tires through their paces, and thought we would share the results with those looking to get some new rubber on their short course trucks.

As expected the gluing went about as well as could be expected, when it was done, most of my fingers were stuck together, but the tires were secured to the rims and ready to rock. We used stock Traxxas SC wheels.
One thing you'll notice right away is these things are not called Trenchers for nothing! The tread on these tires is HUGE! This is something we really like to see around here, because bashers are looking to run on any surface, and more tread is always good. The tires we replaced were pretty much bald from running on pavement, dirt, and any other surface deemed worthy of my Slash.
If you own a Slash 2WD, you know running in grass is pretty much a no-no. We'll to our surprise, these tires can actually do grass! While we still don't recommend driving your 2WD in grass, these tires made is possible. On a 4WD, look out! They handle like buggy tires out there!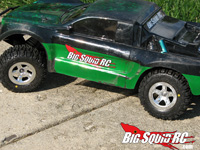 After running on pavement, dirt, grass, and anything else we could throw at them, the treads held up very well, and show little signs of wear and tear. We have made other tires bald in a few hours of testing stuff before, and these still look good after a few weeks! They dig deep into the dirt, actually work in the grass, and those huge treads are gonna take a while to go bald on pavement.
If your bashing or racing, you need to take a serious look at these tires! I know a few guys here at BSRC are picking these up after seeing what they can do under our tough bashing!
As with all our stuff, if you see me at a bash or at the track, feel free to stop by, say hi and check out the stuff! I'll give ya some stickers, and even let ya try stuff! (maybe… if you ask nice)
SUMMARY
Time To Bash – 8.0/10 – Just not a fan of gluing. Recently got the fingers unstuck.
Workability – 9.0/10 – They were a good fit on the stock Traxxas wheels.
Car Show Rating – 9.5/10 -They have a nice scale look! Good Detail
Bash-A-Bility – 10/10 – The thick treads last a LONG time, and can handle all surfaces!
Big Squid Rating – 9.5/10 – Tentacles.. For bashing, these are highly recommended!