RPM Traxxas Slash Rear Bumper Mount Review
From: RPM RC Products
Direct Link: RPM Traxxas Slash Rear Bumper Mount
Retail Price: $9.95 – Part Number- #80902 (black) #80905 (blue)
Can be used with Traxxas Slash, e-Rustler ,e-Stampede and Bandit.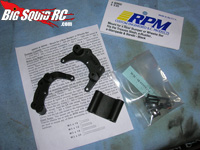 Why You Need This:
The Traxxas Slash is a fine piece of engineering from the factory, with very few flaws. The largest flaw may just be the way its rear bumper mount is set up. If you land hard on the rear of the truck, or get hit hard in the back, the support arms on the stock bumper like to pop down and dig into the dirt. The RPM rear bumper mount completely fixes this problem and takes the Slash one step closer to perfection. The RPM bumper mount eliminates those pesky bumper arms.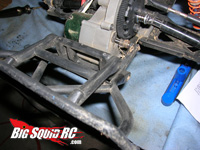 Build Notes: The supplied instructions, with diagram, make installation idiot-proof.
Driving Impressions: A Traxxas Slash with the RPM rear mount installed drives
exactly like a stock truck. Local race tracks should allow the use of these in "spec" class as there is no performance gain.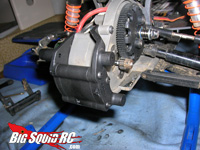 Durability: It's got the RPM name on it doesn't it? Even under severe abuse I have not come close to putting a scratch in it. The severity of abuse you'd have to
inflict to break this part would leave the rest of the truck in a pile of rubble.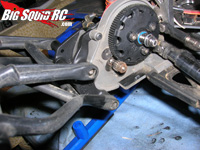 Highs: Very affordable, completely fixes one of the few weak points on the Slash,
extremely durable.

Lows: Absolutely none.

As with all our stuff, if you see me at a bash or at the track, feel free to stop by, say hi and check out the stuff! I'll give ya some stickers, and even let ya try stuff! (maybe… if you ask nice)




SUMMARY

Time To Bash – 10/10 -Under 20 minutes to install, and that included me taking notes and pictures.

Workability – 10/10 – Comes with all needed hardware, great instructions, and fit is perfect.

Car Show Rating – 7.0/10 – This is definitely not a "bling-bling" part, in fact, it might be hard to tell you have one installed at all.

Bash-A-Bility – 10/10 – Absolutely zero breakage, even after repeated severe beatings.

Big Squid Rating – 10/10 – Tentacles.. Perfect fit, no breakage, fixes a nagging problem, makes the already stellar Slash into an ever better race/bash machine.


There is a reason why RPM received the first ever Basher Approved lifetime achievement award!

Make sure to tell them Big Squid RC sent ya when you pick one up!