ST Racing Concepts Aluminum Shock Shaft Pliers Review
From: ST Racing Concepts – Aluminum Shock Shaft Pliers
Retail Price- $21.00
Part Number- ST22353
URL – www.TeamSTRC.com Direct Link
Review By: Tim Mohr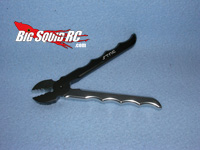 Features:
Machined Aluminum
Long, contoured handles
Works on nearly all shock shafts sizes
Why you need this product: Tired of not getting a good grip on oily shock shafts when doing rebuilds? Tired of scratching up the shafts with normal pliers, causing your shocks to leak like a stuck hog? The ST Racing Concepts pliers solve both these problems.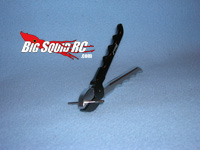 Highs: Work awesome with zero slippage or scratching. Fit all sizes of shafts, from my tiny Associated RC18T, to my Traxxas Slash, all the way up to my large Caster Racing EX-1 Fusion shafts. They look totally trick.
Lows: None
For more information on these and more for your Slash, please visit www.TeamSTRC.com
Tim Mohr
As with all our stuff, if you see us at a bash or at the track, feel free to stop by, say hi and check out the stuff! We will give ya some stickers, and even let ya try stuff! (maybe… if you ask nice)
SUMMARY
Time To Bash – 10/10 – Ready to wrench (R2W?) right out of the box, zero set-up time.
Workability – 10/10 – Work perfectly as advertised.
Car Show Rating – 10+/10 – These come with one arm in natural aluminum color, and the other arm gun metal anodized. Gun metal is the new Kinwald Blue. These set the standard for cool.
Bash-A-Bility – 10/10 – I didn't torture test these, but I did put them to the best test I had, putting new shaft ends on my Caster Racing Fusion shocks. They came out looking like new, with no bending or scratches on them.
Big Squid Rating -10/10 – Tentacles.. Trickest looking tool available, affordable, and work as promised.