ST Racing Concepts – Aluminum Slash Hop Up Review
From: ST Racing Concepts – Option Parts for the Traxxas Slash
Review By: Tim Mohr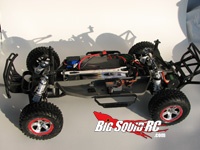 Being one of the fast 18th scale guys has had it's ups and downs over the years. Some of the ups has been being able to meet lots of cool people at the races and getting all sorts of goody filled mystery boxes in the mail. Among the downs has been that a lot of those boxes contained equipment from companies I had never heard of, and their equipment was pure junk. The vast majority of aluminum hop-ups I received just didn't work properly, nor fit properly, and added a lot of unwanted weight onto my race Mini-T's and RC18's. I have a very poor opinion of adding any sort of aluminum to any of my race trucks.
The editor-in-chief of BigSquidRC calls me a couple weeks ago needing a tester for some aluminum hop-up parts for the Traxxas Slash. Arrgggghhhh, I wasn't looking forward to this one, but I owe Brian a lot, as he's been a huge help to my racing over the years, so I volunteer.
The aluminum upgrade parts I tested for the Slash are manufactured by a company called ST Racing Concepts. Was it ugly, or do I owe Brian a beer? Read on…….
ST Racing Concepts Caster Blocks–
Ups- Part installed easily with absolutely no need to alter to get it to fit properly. Did not seem to add too much excessive weight, and looked well made out of quality material. Very attractive. No sharp burs or edges to be found. Combined with the ST Racing front knuckles allowed a significant increase in steering travel over stock, which was much appreciated on the hairpin corners of the small indoor track I've been racing at. No binding at the movement points, very free moving on all axis, which can not be said of the stock part it replaces.
Downs- Slight addition in weight. Perhaps a bit harder on the stock Traxxas hinge pins (which seem to be made out of butter, bending with the stock plastic caster/knuckles). Would like to have seen an additional camber link mount.
ST Racing Concepts Front Knuckles–
Ups- Looked stunning, made out of quality material. Absolutely no modification required to fit. No burs or sharp edges. Came with new bearings that were much better than the stockers. No binding at any of the mounting points. Combined with the ST Racing caster blocks, gives an increase in steering travel.
Downs- Slight increase in weight.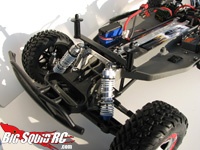 ST Racing Concepts Front Tower–
Ups- Stunning looks, made out of quality material (6mm thickness). Fit perfectly, no modification required for proper mounting. No burs or sharp edges. Offers more tuning options than the stock parts, with many additional shock and camber link holes. All the additional tuning holes are smartly placed, offering tuning options that can/will be used and not just wasted.
Downs- Slight addition in weight, but because of the excess material milled out, this is minimal. Some would argue that it puts too much stress on the front bulkhead, but on the Slash the body mount above the tower dissipates most of this, making this essentially a non-issue.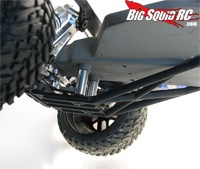 ST Racing Concepts Steering Bellcranks–
Ups- Look awesome, made out of quality material. No burs or sharp edges. Fit is absolutely perfect. Huge advantage over the stock part in terms of freedom of movement. Stock parts bind like crazy, the ST bellcranks ride on above average quality ball bearings. Free's up the steering enough that even the stock servo feels like it has 150 oz of torque.
Downs- Very slight addition of weight.
ST Racing Concepts Wheel Hexes–
Ups- More snug fit on stock rims, resulting in less play and chance of stripping a rim under high power use. No burs or sharp edges. Utilizes a grub screw to lock down on the axle, resulting in zero chance of losing an axle pin when simply changing out wheels/tires. Look awesome, although their beauty can only be admired when wrenching. Come with proper offset for front and rear of the Slash.
Downs- Very slight addition in un-sprung mass, but never noticed during driving.
ST Racing Concepts Complete Shocks–
Ups- Instantly solves one of the biggest problems of the Slash, the shock caps popping off. No burs or sharp edges. Very well made, mimicking the stock design. Really look good on the truck, combined with the towers made many people stop and take notice. I suck at building shocks, yet I experienced no leakage, and action seemed at least as good as stock. Easy to build. Combined with the ST Racing towers, had less binding at top shock mount than the stock hardware.
Downs- Very slight addition in weight. This part probably should come with instructions for those newer drivers that may not have built many shocks before.
ST Racing Concepts Rear Hub Carriers–
Ups- Very good looking, made out of quality material. No burs or sharp edges. Absolutely zero binding, a big advantage over the stock part. Fit with absolutely perfectly. Supplied with quality large bearings that were much more free spinning than the stockers.
Downs- Slight addition in weight. Would like to have seen at least one additional tuning hole for the rear camber link.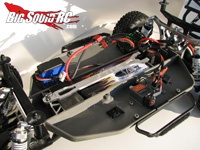 ST Racing Concepts Battery Strap–
Ups- Best looking of all the ST parts. No burs or sharp edges, which is especially important on this part. Did it's job with zero issues. Offers slightly better options for battery arrangements.
Downs- Slight addition in weight. Some would argue that using aluminum for the battery strap could cause a dead short issue, but in years of running them, I've never experienced a problem of that nature.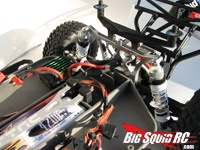 ST Racing Concepts Rear Tower–
Ups- Very good looking, made out of quality material. No burs or sharp edges. Offers much appreciated additional mounting options for shocks. Mounted perfectly. Upper shock bushings offer less binding than the stockers they replace. Because the tower is mostly milled out, gives plenty of room to route motor wires through, something the stocker does not offer enough of.
Downs- Slight gain in weight. Would like to have seen additional rear camber link mounting options. Would like to have seen the "buggy" body mount removed. Some would argue this part would place unneeded strain on rear bulkhead, but once again, the body mount on the Slash is mounted on top of the tower and is very flexible.
General thoughts about all the parts-
Blue Loctite is your friend with some these parts. In general, most metal on metal connections should receive some to keep the parts from working loose. But, be careful where and how much you apply, as you might use too much in the wrong spot which may result in binding from the overflow. Don't use on the shock caps, and don't use too much near pivot areas.
I drove my Slash like I stole it (just like normal I guess… LOL) after installing the ST Racing parts, and nothing came loose, bent, or caused excessive damage to parts they were attached to. All the ST Racing parts offer a better fit than stock, with much less binding.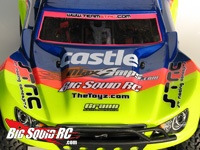 Out of all the parts tested, I appreciated the steering bellcranks and shocks the most. The bellcranks because they offer a huge loss in binding over the stock set-up, and the shocks because I never had to worry about popping off a cap again. A close third would have been the caster blocks/front hub carriers, as the increased steering range did wonders for the steering on the hairpins.
On track, I really appreciated the benefits of all the parts. No, they didn't take 2 seconds off my lap times, but they did increase reliability, consistency, and my confidence to push the truck harder around the track. Big ups on including quality bearings. For straight up bashing, the increased reliability was nice, as were the additional shock mounts. The uber bling factor didn't hurt either. 😉
If you love your Slash and are looking to put great quality components on it to increase reliability, performance, and add to it's style, ST Racing parts will not disappoint. These are not the junk aluminum parts you bought for your T-Maxx or Mini-T, they are the good stuff at a reasonable price.
For more information on these parts and more for your Slash, please visit www.TeamSTRC.com
Tim Mohr
As with all our stuff, if you see me at a bash or at the track, feel free to stop by, say hi and check out the stuff! I'll give ya some stickers, and even let ya try stuff! (maybe… if you ask nice)
SUMMARY
Time To Bash – 9.0/10 – Easy installs, no problems.
Workability – 9.0/10 – Very easy to work with, great fits!
Car Show Rating – 9.5/10 – Bling is always good!
Bash-A-Bility – 9.5/10 – Drove it Like I stole it, nothing broke! Every part has held up great!
Big Squid Rating – 9.5/10 – Tentacles.. Bling + Better than stock = Awesome!