ST Racing Concepts Hinge Pin kit for Traxxas Slash Review
From: ST Racing Concepts – ST Racing Concepts Hinge Pin kit for Traxxas Slash
Retail Price- $17.00
Part Number- ST3640S (silver), ST3640BK (black)
URL – www.TeamSTRC.com Direct Link
Review By: Tim Mohr
Features:
Heat treated for greater durability
Polished for reduced friction
Lock nuts keep pins from coming loose
Why you need this product: Traxxas had to cut a few corners to meet the $199 price point of the Traxxas Slash. One of those corners was quality of the hinge pins. The stockers have several problems- 1. they like to back out and come loose, 2. they are made out of butter and like to bend, and 3. the inner front hinge pins use e-clips to secure them. The ST Racing hinge pin set totally cures all three of these problems.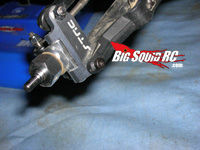 Build/Use Notes: My test slash has been beat extremely hard. It's been used from everything from mod carpet racing, to long jump contests, to rooftop demo derby, so it's not exactly what I'd call "tight". When I mounted up the ST Racing hinge pins, the outer fronts, outer rears, and inner rears installed flawlessly. The inner front hinge pins had a small amount of binding. This might have been caused by my front arms being tweaked, but it might also have been caused by the hinge pins being a tiny bit too short. Any which way, I solved the binding issue by using a dremel tool with a sanding wheel to remove a small amount of material from the inner a-arms to reduce their width. Otherwise, the hinge pins were a pleasure to install, and worked absolutely flawlessly.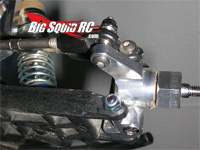 Durability: Props to ST Racing for putting out hinge pins that can take a serious hit without bending. I had absolutely no problems with bending even after some very severe bashing, including one 50+ mph hit on a concrete curb.
Highs: Very affordable, tough as nails (big heat treated nails at that!), zero binding as they are much smoother than the stockers, no more backing out or loosening going on, and my favorite thing about them is they totally eliminate those pain in the butt e-clips.
Lows: None
For more information on these and more for your Slash, please visit www.TeamSTRC.com
Tim Mohr
As with all our stuff, if you see us at a bash or at the track, feel free to stop by, say hi and check out the stuff! We will give ya some stickers, and even let ya try stuff! (maybe… if you ask nice)
SUMMARY
Time To Bash – 10/10 – The rear inners might take a few extra minutes to switch out, but otherwise, you are looking at under a half hour to install all 8 of them.
Workability – 10/10 – I'd suspect that the only tiny issue I had during installation was due to the sorry state of my beat up Slash. I'd expect a new or less tortured Slash to have zero problems with the install.
Car Show Rating – 7/10 – These aren't a bling item, in fact, they would be difficult to spot at all. But those in the know will notice this fine detail, and realize it's one of the must have hop-ups for the Slash.
Bash-A-Bility – 10/10 – Absolutely zero breakage or bending, much tougher than stock.
Big Squid Rating -10/10 – Tentacles.. The crew at BigSquid has pondered about what might be the best "bang for the buck" hop-up for the Traxxas Slash. Well this is it. Extremely affordable, and totally fixes one of the weakest links of the Slash. If you are wanting to take your Slash one step closer to the perfect basher or racer, the ST Racing hinge pin set should be the first thing on your list.