ST Racing Concepts MIP CVD's for Traxxas Slash Review
From: ST Racing Concepts – MIP CVD's for the Traxxas Slash
Retail Price- $42.00
Part Number- ST1953
URL – www.TeamSTRC.com Direct Link
Review By: Tim Mohr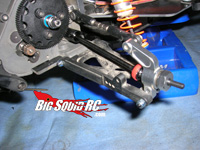 Features:
Beefy design for greater power handling
Increased traction
Reduced binding
Why you need this product:
While the stock Traxxas "slider" drive shafts work ok, they fall short when used on mod type power, or on bumpy tracks. The stockers can twist, break, and the stock outdrives are known for breakage during high power applications. The stock sliders are also prone to not "sliding" very smoothly, resulting in rough/bound-up suspension travel. The ST Racing Concepts MIP CVD's solve all these problems. The CVD's come with sturdy metal outdrives, beefing up that portion of the drive line, and of course their drive shaft set-up is second to none in quality and durability.
Build/Use Notes:
The stock Traxxas Slash axle shims caused binding when used in combination with the CVD's. I was able to dig up four (two for each axle) MIP metal axle shims in my toolbox from a previous CVD kit. Once these were installed (one on each side of the rear hub bearings) all binding was gone. Also, I use the very trick ST Racing Concepts aluminum rear wheel hexes on my Slash. The supplied CVD drive pins are too thick to properly fit in these hexes, so I ditched the MIP drive pins and used the stock Traxxas pins which slipped right in. Lastly, on every CVD I've ever assembled, black grease is used in the drive cup area to eliminate friction, and thread lock is used on the grub screws. Neither the grease nor thread lock was supplied with the CVD's. Most avid rc'ers will have these in their pit boxes, but don't overlook the use of these just because they were not supplied.
Durability:
The ST Racing Concepts MIP CVD's are constructed from quality material, and a lot of it. These CVD's look capable of handling loads of power, and I didn't come close to breaking them while testing, even on 4S Li-po and brushless power. Outdrive wear can be an issue with some CVD's, but none was found, even after a half dozen packs on 3S Li-po and a VERY fast Castle Creations motor.
Highs: Extremely tough design. Look very pro moto. Essential for high power use. Eliminates the binding of the stock "slider" shafts for superior suspension action.
Lows: CVD's should come with extra shims, grease, and thread locking compound.
For more information on these and more for your Slash, please visit www.TeamSTRC.com
Tim Mohr
As with all our stuff, if you see me at a bash or at the track, feel free to stop by, say hi and check out the stuff! I'll give ya some stickers, and even let ya try stuff! (maybe… if you ask nice)
SUMMARY
Time To Bash – 9.0/10 – The CVD themselves are extremely easy to build, but getting the stock outdrives off might take you a few minutes. I spent about 30 minutes installing the CVD's, which is very reasonable considering I was taking pictures, writing down notes ect..
Workability – 7.0/10 – Well thought out, well written instructions that make installation simple, but CVD's should have come with extra shims, grease, and thread locking compound.
Car Show Rating – 7.0/10 – These CVD's look much different than the stocker drive shafts- they look like they really mean business, and look much higher tech than the stock plastic garb. No, they aren't all bling'ed out in chrome or gold plating, they are more the high tech racer look. Don't expect to win car shows with these, expect to win races.
Bash-A-Bility – 10/10 – Absolutely zero breakage or even signs of wear, even after extreme abuse.
Big Squid Rating – 8.0/10 – Tentacles.. Very pro moto, bombproof, and a Huge improvement over stock.