Tactic RC 2.4 Ghz TTX240 Radio Review
What: 2.4 GHz Radio TTX240
Review By: Brian S.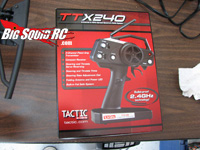 For all of you bashers out there, this may be one of the the biggest product news/review stories we post this year!
We will try to keep this short and to the point.
If you are using an AM or FM radio, and you have been thinking about saving up for one of those fancy 2.4GHz radios, go buy this one!

This radio is about as simple as it gets, and while it's not much of a step higher in features than the stock radio that came with your RTR vehicle, it gets you crystal free, so you no longer have to worry about what channel your friends are on, and you don't have to wait for your pin at the local track!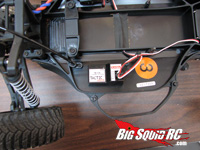 We have been testing this radio for a while now, and the big news is that it works, and works well! It's so cheap it hurts our heads. Why in the world have we (and everyone else on the planet) been paying $80-$100+ dollars for 2.4GHz receivers for our expensive radios, when the receivers that come with this radio are $25!!! And that's the retail price! After the hobby shop gets their money! How and why is that even possible? Seriously!?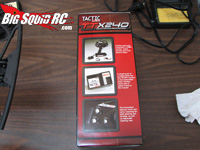 The transmitter itself is a no frills, down to business radio. It has your standard servo reversing toggles, steering and throttle trim dials, steering rate adjustment, a built-in-fail safe (returns servo's to neutral if radio signal lost). It only needs 4 AA's in the transmitter, so it's light. It was VERY easy to use/install and bind.. and basically, it just works. It has a good feel/grip in your hand. There are more expensive radios that don't feel nearly this good.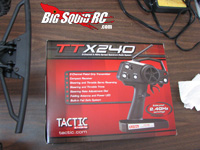 The only thing we were bummed about was that we couldn't get the receivers to bind with any of our expensive transmitters that have $80+ receivers we need to buy. It also would of been nice to see some sort of model memory. That being said, it's so simple, there are not many things you need to adjust when you are going from one vehicle to the next. We used the radio in several vehicles, in all sorts of locations, and have been completely glitch free.
If your a basher on a budget, and in need of dropping those pesky crystals, this radio should be on your shopping list!
For more information on the Tactic TTX240 2.4GHz Radio, please visit http://www.TacticRC.com/.
As with all our stuff, if you see us at a bash or at the track, feel free to stop by, say hi and check out the stuff! We will give ya some stickers, and even let ya try stuff! (maybe… if you ask nice)
SUMMARY
Time To Bash – 9/10 – Installed and binds fast!
Workability – 8/10 – Has the important adjustments, would of liked model memory.
Car Show Rating – 8/10 – Nothing special to look at, but looks good enough and feels good in your hand.
Bash-A-Bility – 10/10 – Receiver has taken a beating, no problems.
Big Squid Rating -9/10 – Tentacles.. If you need a 2.4 radio, and your on a budget, this radio is for you!