Team Novak – GoaT Brushless Crawler System Review
From: Team Novak
Direct Link: Team Novak – GoaT Brushless Crawler System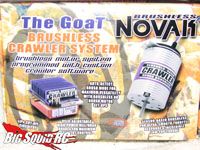 As you probably know by now, at least if you read Big Squid RC you should know, that RC Rock Crawling is really taking off. Every year in the RC world, there is something that is just 'hot', and the current 'hot' is RC Rock Crawling. While we are bashers at heart, we still try and stay on-top of what's hot and what's not. It's part of the job. While diving into the RC Crawler world, we armed ourselves with a crawler and the Novak GoaT Brushless Crawler System.
If you are not one for reading big reviews, and were just looking for the head nod because you were on your way out to the hobby shop, here is the internet attention span review: GO BUY ONE! NOW!
Ok, if you haven't left and are still reading.. congrats! I'll still try and keep it short.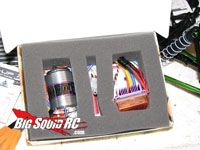 Out of the box the system is pretty much the standard as far as ESC and motors go. I was a little surprised by the rather large capacitor that dangles off the ESC, and was a little unsure about where I would have to put it in my crawler. The instructions that come with the system are pretty good but still a little intimidating. The Novak GoaT system has some great features for tweaking the performance till you get the feel just right,(crawling is all about feel!) but these are all done with lights on the ESC and use input from the transmitter radio system. This system works ok, but as technology advances there are things I start to appreciate and almost expect on state of the art systems such as this. One of those things is the ability to fine tune the system with a PC or other device. The lights and menus are not difficult to navigate, but having the option to plug it into a lap-top would just make me much happier.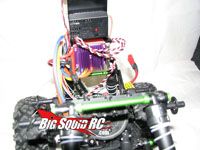 The system does not look big in or out of the box, but when it came time to fitting it into the crawler, it felt HUGE! Compared to a few other systems out there, it is a little larger, and the super tight 'optimal' location on my crawler was making it a challenge to get things where I wanted them. It took some patients, a few deep breaths, and a little re-re-rearranging, but I finally got the system in place. The wires are good and thick, which is great for power and conductivity, just not so friendly when trying to put a spaghetti monster inside of a thimble. If (when) you go get this system, take your time, do it right, and know that it DOES fit. Don't force it, pretend it's a puzzle and you will get it eventually.
Once I got everything strapped in and the LiPo connected, I put it on the office floor to make sure the mesh was good and to see if I had everything going in the right direction. I slowly squeezed the throttle and was amazed by how gently it moved. There was no stutter, no shake, just a perfectly smooth curve. After I was sure that things were rolling nicely I gave the throttle a good squeeze and was nicely surprised at the overall top speed and power. Of course the next thing was looking for stuff to climb! Boxes, office furniture, books, small children, nothing was off limits and the truck easily tackled anything in it's path.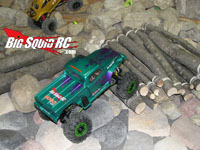 I have now taken the system to 3 crawler events. (My first 3 crawler experiences ever) The system works brilliantly! To prove that, I have 1 first place finish, and 1 second place finish! As I watch other drivers and their lines of attack, I see them get caught in areas, or struggle up parts of the course that the GoaT system just laughs at while it goes up and over. This muscle CAN and WILL get you into trouble if you are not careful. Most vehicles and stock parts will break or stress long before brushless system does.(insert pile of broken drive shafts here 🙂 )Personally, I LOVE the power! I'm a basher deep down, and this is how bashers handle challenges. We don't go around them, we power over them!
Since getting the system and performing very well at the events, many people have asked me about the system and several have switched over to the system per my recommendations. Now when we see each other at events, we just smile and grin because we know our vehicles have what it takes to do well. With the power in the truck, it all comes down to the driving ability. I have found that keeping my eyes closed works best.
If Novak named the system GoaT, meaning "Greatest of all Time", I think they were dead on. If you are thinking about getting into the new crawling trend, make sure this system is on your 'must have' list, you won't be disappointed!
As with all our stuff, if you see me at a bash or at the track, feel free to stop by, say hi and check out the stuff! I'll give ya some stickers, and even let ya try stuff! (maybe… if you ask nice)
SUMMARY
Time To Bash – 8.5/10 – It's a big system, and you should take your time and set it up right!!
Workability – 8/10 – Set up with lights IS better then sound, but I WANT a PC interface PLEASE!
Car Show Rating – 9/10 – It's a good looking system! True Novak Colors, lights are good.
Bash-A-Bility – 10/10 – It handles my basher abuse! I am not easy on it at all.
Big Squid Rating – 9.5/10 – Tentacles.. This is a must have crawler system, short of perfect missing a USB connection.