Team Novak HV Pro Brushless Conversion
From: Team Novak
Direct Link: Team Novak Brushless Conversions
Retail Price: $515.00 .
We worked on an OFNA buggy with their OFNA Kit. They have all sorts of kits for all sorts of conversions. Cen, Associated, Losi, you name it, they have a conversion kit.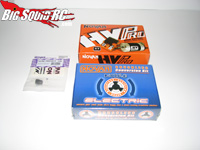 When I was asked by the Squid "Hey, you want to try a brushless conversion in your buggy?" I was skeptical. I have always been a nitro basher, but I figured, why not give it a shot. The electric conversions seem to be all the rage these days, we might as well see what the fuss is all about.
There are a lot of parts there once you get things out of the boxes and spread out. Make sure to stay calm, take your time, and follow the directions.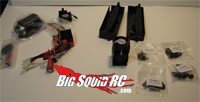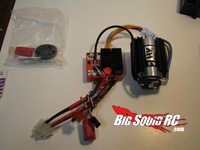 There are a lot of parts there once you get things out of the boxes and spread out. Make sure to stay calm, take your time, and follow the directions.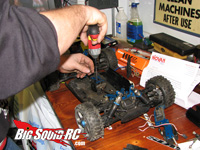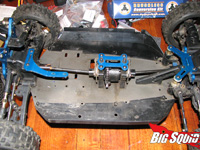 Gutting the buggy was pretty painless. You end up removing a decent amount of parts, and a lot of weight. Keep in mind though that most of this weight will come back once the battery packs are in place.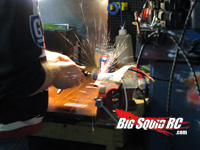 Things went in pretty smoothly, with little modifications needed. The motor plate bolted rite to the stock motor holes in the chassis. And the large cooling fins built into the motor mount were a nice touch.
The hardest part of the install was finding a good place for the esc witch required a couple of hole to be drilled into the chassis (double sided tape would have worked, but I was planning on beating the snot out of this thing). Next were the batteries. It was a tight fit, but they went in. Total install time, just under 2 hours.
After everything was in it was time for a test. Two Maxed Amps 2c lipos put this system into overdrive. I was getting some serious speed on the street in front of my house. On the track, I was hanging with the nitro buggies on the straits and clearing jumps with no effort at all. The power is instant and constant. After a full pack of run time the temps were shockingly low. The duel cooling fans can really move some air.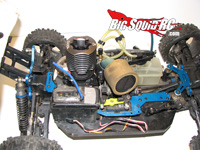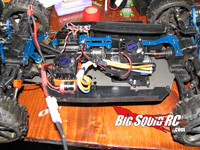 Here is a little before and after.
I have to say, this system opened my eyes to the world of high voltage electric power. I can't wait to see what else this system can do. Keep your eyes on the forums; I think you'll be seeing a monster truck conversion from me soon.
As with all our stuff, if you see me at a bash or at the track, feel free to stop by, say hi and check out the stuff! I'll give ya some stickers, and even let ya try stuff! (maybe… if you ask nice)
SUMMARY
Time To Bash – 8/10 -It will take some time to find the rite set up for your vehicle. But the instructions give great location options.
Workability – 9/10 – This system is easy to work on. Included instructions make it easy to set up the ESC for your application.
Car Show Rating – 9.0/10 – People have to take a second look when they don't see the pipe stinger sticking out the side. The only problem is the track marshals keep bring it in thinking you motors dead.
Bash-A-Bility – 8.5/10 – Loads of fun and no choking nitro smoke. The down side, charging time for 2 batteries.
Big Squid Rating – 9.0/10 – Tentacles.. Tons of torque, massive speeds, and having something different gives this system a high rating. Good for everything from buggies to monster trucks, and everything in between. If you're looking for a brushless system and conversion, Novak has the product for you.
Make sure to tell them Big Squid RC sent ya when you pick one up!