Team Tekin RS Pro and Redline Brushless Motor Review
From: Team Tekin – Team Tekin RS Pro ESC and Redline Sensored Brushless Motor 6.5
URL – Tekin RS Pro Direct Link
URL – Tekin Redline Brushless Direct Link
Review By: Bill Stevens and Brian S.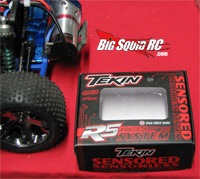 Recently we got our hands on the Team Tekin RS Pro Speed Control and Redline 6.5 Sensored Brushless Motor. We were replacing our Traxxas Velineon system. (We sort of broke ours, into pieces) and thought now might be a good time to give the Tekin a good work out!
Let's see what we have.
Some RS Pro Features:
Drives Sensored/Sensorless Brushless and Brushed Motors!
Easy to access programming, anywhere, anytime.
Hotwire PC Interface
On-Board Temperature Indicator
Some Redline Brushless Motor Features:
Dual-Plug Sensor Wire Harness for use with Sensored and Sensorless Systems
CNC T6 Aluminum Heatsink Can
Gold Plated Solder Tabs
High RPM Precision Bearings
Removable/Replaceable Rotor
Race Legal
I want to jump right into the testing, but first we need to talk a little about the install. It's not for the weak at soldering. Hopefully the two pictures above give you some idea of what we have going on here. As bashers, we we tend to be a little sloppy with soldering. Normally, we just need to get two wires connected back together asap, and move on. The most soldering we do are batteries/deans connectors, so when we opened this baby up, we were a little intimidated to say the least. Here are a few tips, TAKE YOUR TIME! Seriously, you do not want to rush this job. Second, look for something thin you can get in there so you don't end up with a big mess. These posts are VERY close together, one small slip, and you could have a real nightmare on your hands, not to mention a potential to fry some stuff. Take deep breaths, take breaks, it will all be worth it in the end.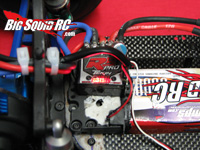 Once you are done with the install, it's time for the fun! Before we even made any types of changes, this setup was amazing! On just 2S LiPo we were flying! Way faster then our Velineon system on 3S! The power and speed from the Tekin system was amazing.
After the initial shock wore off, it was time to try and make some adjustments. The menu setup on the RS ESC with the LED's was surprisingly easy to use! You really can make a ton of fine adjustments in the field without needing a PC or a separate device! The menu was easy to navigate, and the settings were easy to set exactly how I wanted them. Need more break no problem! Want to change the throttle curve, easy! I also really liked the temperature measuring setup. Every few seconds the LED's would flash how hot the ESC was running.. this was fun to test as we did multiple speed runs up and down, then would bring it it and check to see how hot we were getting. Having the two buttons on the ESC so everything is at your fingertips is really nice. There are a TON of options that can be setup from here, and all the important ones were easy to choose!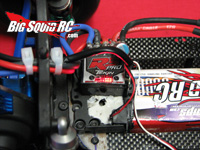 This was my first experience with the new Tekin RS Pro, and honestly, I wish someone would of told me about this technology sooner! It's amazing! The ESC setup was so easy to change in the field, I am a believer! We tested the setup in our 1/10th scale Traxxas Rustler that's been beefed up for bashing and couldn't be more pleased.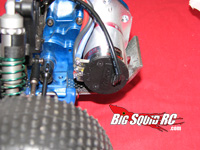 The motor was super responsive at all times, there was no hesitation or stutter that is sometimes seen in other setups, and the speeds we were getting on just 2S were very impressive! If you are in the market for a new 1/10th scale brushless setup, I really need to recommend that you look at the Team Tekin kits! While the soldering will test your skills, the end payoff is more than worth it, and the ease of use really shines in the field!
For more information on the Redline RS System, please visit www.TeamTekin.com
As with all our stuff, if you see us at a bash or at the track, feel free to stop by, say hi and check out the stuff! We will give ya some stickers, and even let ya try stuff! (maybe… if you ask nice)
SUMMARY
Time To Bash – 6/10 – This isn't a quick and dirty install. Take your time and do it right!
Workability – 10/10 – I can't believe how good the menu system works on the ESC! I'm going to have a hard time using anything else!
Car Show Rating – 9/10 – It's a good looking system. LED's are fun!
Bash-A-Bility – 9/10 – So far we have beat on it pretty good, and no breakage! Finding a way to protect those posts or sensor cables on the motor would be a good idea if your bashing hard!
Big Squid Rating -9/10 – Tentacles.. The install is tough, but the final package is worth it! The motor is very fast and responsive, and ESC setup is amazing. Make sure you consider Team Tekin if you are thinking about an upgrade!