RC Rock Crawling Event – April 5th 2008 – HobbyTown – Naperville, IL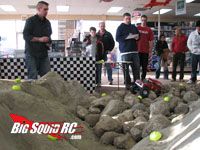 Aww yea! April 5th is the date for the last event in the Suburban Chicago Rock Crawlers (SCRC) point series! So far the series has been a real blast! The locations have been great, the people have all had a ton of fun, and I'm sure this last one will have a huge turn out!
Signup begins @ 12:30 (you will be teched when you sign in) Drivers Meeting will be at 1:00 with the event starting shortly after.
Pictures from the last event are HERE.
Make sure to call Naperville HobbyTown USA (630) 778-0036 for more info.