RC Rock Crawling pictures from the new Hobbytown Orland course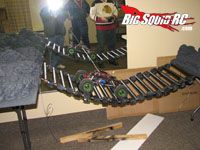 Today I met with Bill(firesprink281) and Jeff(jetboat) at the HobbyTown USA – Orland Park store to check out their new RC rock crawling course and help get it ready for the event coming up. We met with Steve, the owner, to discuss the event as well as lay out some plans and ideas for the course. It's looking pretty good so far, so enjoy the pics.
** Steve has let me know that there will be an open practice on the course this February 7th, 2008 from 2pm to 8pm!! If you are thinking about going to the event, this would be a great chance to get in some run time and get used to the feel of this course. It's different for sure.
I have posted more pictures in the new official Suburban Chicago Rock Crawlers Forum, so head over and check it out!