RC Snow Plow Service!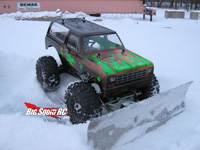 I just wanted to post up this picture we got from one of our readers. First, I'm not sure this would actually work unless you were plowing WHILE it was snowing. My guess is that nothing on the vehicle weighs enough to push any amount of actual snow more then an inch or so. But I think it would be fun to try. Second, I always thought it would be cool to have some sort of lawn or snow plow RC business, where you would pull up the the house, and not even get out of your car, just sit there and cut their lawn or plow their sidewalk. And lastly, because I always wanted to build something like this when I got my first t-maxx, and then plow my driveway from the comfort of my living room. Then I imagined some kid running up and taking off while my truck, and I'd be inside looking out the picture window in my bunny slippers like 'Hey! Wait! Stop! Aww 🙁
Thanks for the snow picture Adam! Anyone else have any snow pics they want to send in, feel free. If you have a great story to go along with it, why not post it up over in the forums!