RC Speed Run Event – Insane Speed Run!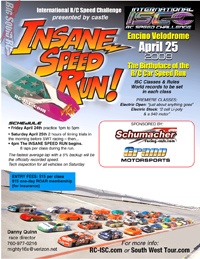 We just got word about a new RC Speed run happening April 25th 2009. If you have the need for speed, this is going to be the place to be! The event already has a few great sponsors and friends like Castle, Schumacher and Grand Motor Sports. For all the official information you can head to http://www.rc-isc.com for all the details. The event will probably be a real blast, would love to be able to attend! Anyone out this way looking to check it out? Drop us a line or post up in the forums!
—————————————-
For those unfamiliar with velodrome rc speed runs, we posted a video in our rc videos section a while back, here it is again for those that missed it!
WOW! This is by far the longest and highest RC car jump video I have ever seen! (And I have seen a LOT!) Mike Ogle sent me this footage that he took in 1996/97 at the Dominguez Hill velodrome. There was a RC car speed run event there. I would guess he hit that jump at about 80mph! WOW. Right click and do a SAVE AS on the video link here for it to work the best.
Right Click Here for Video.
Have a similar video to share? Drop me a line!