R/C Vintage Trans-Am Racing – Classic RC Event!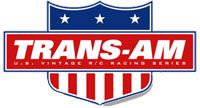 April 12th, 2008 is the U.S. Vintage Trans-Am Nationals! This is a really cool idea. On-road RC racing with Vintage bodies!
These events are getting more and more popular, and starting to pick up some great sponsors as well like HPI Racing, Parma PSE and EDS Racing Products! I will be doing my best to get out there and cover some of the event! If you see me out there, make sure to say hi! I'll have plenty of stickers to hand out. check out the U.S. Vintage Trans-Am website for more details.