RC4WD – R2D Transmission Mini Review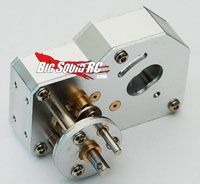 Thanks to RC4WD(.com) the days of having to build your own drive shaft based dig system are over. This unit features a compact size that will fit in most 2.2 chassis, but can also be used in a SUPER class truck as well. The heat treated steel gears offer strength and reliability, while the machined housing offers a good looking package. Unlike most drive shaft mounted digs that only offer 4wd or rear lock, this unit offers 3 possible settings depending on the 3rd channel capabilities of your radio system. The 3 possible settings are 4wd, rear lock, and 2 wheel drive with rear free-wheel. In the case of my test truck, I am running a Spektrum DX3.0 that only offers a 2 position 3rd channel switch so I get the 4wd or rear lock functions, but those of you that run a 3 position 3rd channel radio can use all 3 possible settings of this transmission. Many gearing and motor options will bolt right up to this transmission as well. Our test truck is running a Novak Goat System with an 8 tooth gear, and the transmission is handling this combo as if all the parts were made for each other. RC4WD really hit the mark with this transmission.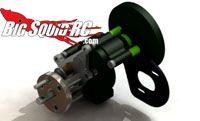 Within the next 30-45 days RC4WD is supposed to be releasing a dig system that bolts up to the stock Axial Scorpion transmission. This system is supposed to use the same design as the dig mechanism on the R2D. We are looking forward to seeing this upcoming unit in the near future as yet another dig option. Below is a drawing of the prototype, and this unit is reportedly going to sell for half the cost of the full R2D.