RC4WD has an impressive line of RTRs, kits and accessories; there is no doubt about that. When we got the chance to get our tentacles on the RC4WD Defender D110 RTR and we jumped on it! What really interested me is the long wheel base and obviously the scale factor. So, what makes the D110 different from other Defenders? Only one way to find out, let the RC4WD Defender D110 review begin!
From: RC4WD
Direct link: RC4WD Defender D110 RTR
Unboxing Pictures: BSRC Unboxing the RC4WD Defender D110
Review By: Jeremy Griffith
Photography By: Jeremy Griffith
Driver: Jeremy Griffith, The Webb Boy's
Specs:
RTR or Kit: RTR
Ages: 14+
2wd or 4wd: 4WD
Shaft or Belt: Shaft
Electric or Gas: Electric
Waterproof: yes
Scale: 1:10
Length: 582mm (22.91")
Width: 221mm (8.7")
Wheelbase: 331mm (13")
Weight: 6.99Lbs / 3.17Kg
Motor: RC4WD Brushed 45T
Speed Controller: RC4WD Outcry ll
Low voltage cut off: yes
Radio: XR3 3 channel 2.4 Ghz
Differential: locked
Driveshafts: Steel Universals and plastic shaft
Shocks: Coilover Shocks Adjustable
Servo Saver: no
Screws: Hex and Metric
Spur/Pinion Pitch: 14/64 = 4.57:1
Bearings: yes
Tires: RC4WD Dirt Grabbers
Battery: 3000 7.2 Nimh
Part Number: Z-RTR0032
Bashing Specs:
Wheelie on demand: Yeah, that's not going to happen
Backflip off ramps: No
Stability control: No
Sound module: No
Self-Righting: No
FPV: No
Run Time (measured by BSRC 35 mins on a 2s 2000mah lipo): 40 minutes
Street Price: $569.99
Top Speed: I walk faster after the ice cream truck then the D110 at top speed. It's a crawler, not a race car.
Primary Competition: If you are in the crawler hobby then you already know RC4WD is one of the Fantastic 4. Be that as it may, RC4WD still has some tough competition such as Traxxas, Vaterra, Axial Racing and Redcat
Need to complete: Not a thing! The D110 comes with a battery, 4 AAs and a wall charger.
Build Quality: Out of the box the D110 is ready to roll. RC4WD even gives you a nice sticker sheet so you can deck it out how you want!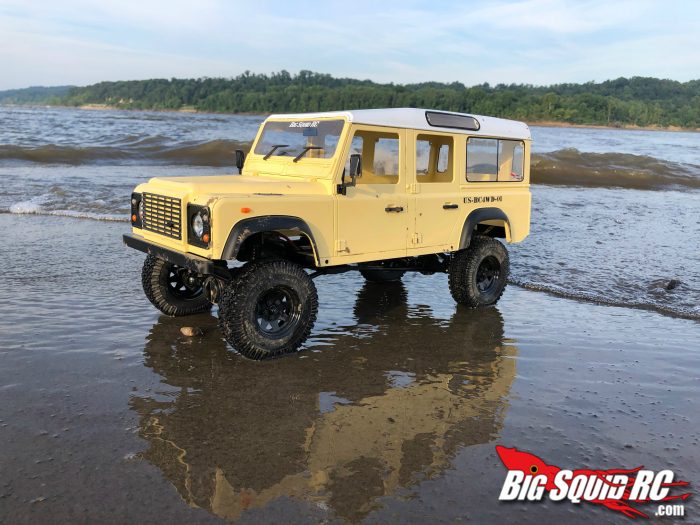 Test Venues: Grand Tower IL, Mississippi River Boat Dock, Juicebox Off-Road Park, Dellwood Park Lockport IL, Webb's Compound.
Turning: Out of the box RTR you never expect much. With the D110s long wheel base it almost feels like driving a limo at times on pavement. As for turning on the dirt and rock there tends to be a freeze at times in the servo but nothing out of the ordinary. The D110 is more of a scale trial rig so the servo is perfect in those conditions. As for sharp turns I would take them slow the D110 is very top heavy.
Grass: Running in the grass with the D110 is no problem. The low end torque supplied from the 45 Turn Motor is more then enough power to run in the scale prairie.
Jumping: You can pretty much get any RC air-born. But don't expect to get the D110 more than an inch or two of the ground.
On-Road: All Crawlers are at home off-road, we all know that. But the RC4WD D110 is one of those scale rigs that look good on-road, just don't make any sharp turns.
Tires: The smaller 1.9s not only look the part but they do quite well actually. We spent a lot of time with
the D110 in the sand mainly because of how well it handled it. As far as crawling goes the tires did great on the rocks. They are a little hard but like I said its more of a trail rig then crawler.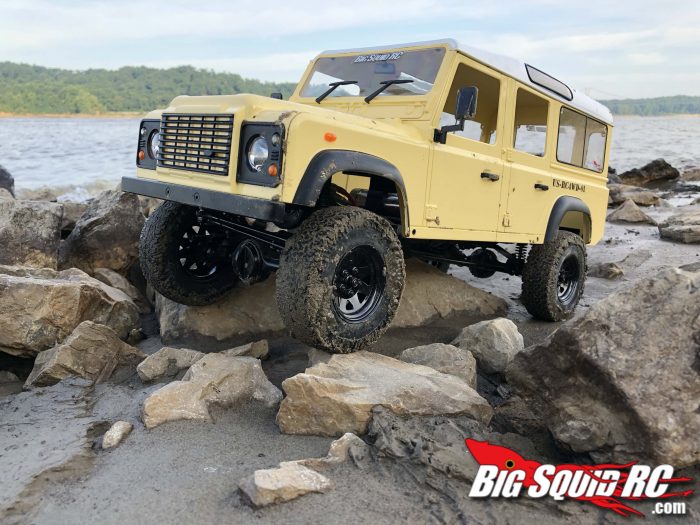 Crawling: Ok, lets' get this party started! I started off with some nice and easy trail running on the scale trails of Juicebox Off-Road park. From there, we went to the rocky creek beds of Dellwood park. With the D110s long wheel base we did have to deal with some high centering, so pick your lines wisely. Once we got the D110 to the sandy banks of the Mississippi River the box stiffness in the shocks were broken in. That's when the RC4WC D110 really came alive. Getting over some obstacles right out of the box, it couldn't do. That being said, the D110s made for scale trail driving, not plowing over massive rock. As for hill climbing we found it extremely capable. When it came to do some side hill running the top heavy body works against you. The hard Defender D110, although top heavy, is very durable.
Power: The D110 has some massive torque with the 45-turn brushed motor but like most scale rigs lacks in the wheel speed. The Drag break holds great, maybe a little too well, a few times on some steep inclines the rear wanted to come over the hood but with a top-heavy body that will happen.
Radio: Any time you get a RTR radio with a third channel is a deal. The third channel makes great
for turning on lights or using a winch.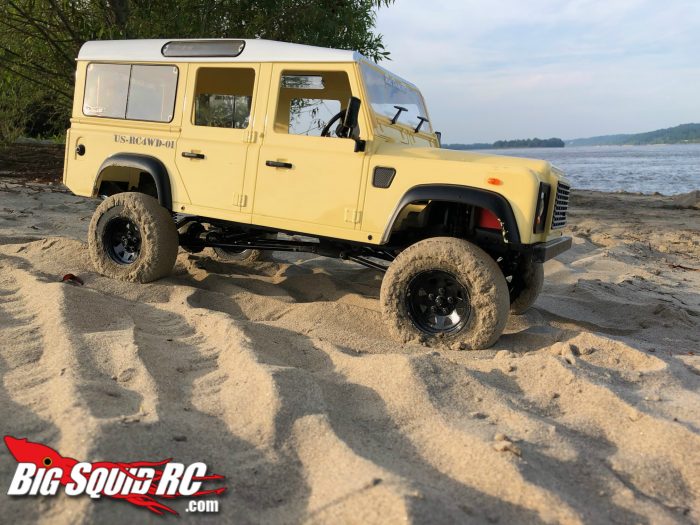 Broken parts: Well, after a lot of Big Squid style abuse something was bound to break. We stripped the
servo gears while trying to turn the D110 while it was wedged between two boulders. As for the body, just your normal wear and tear from trailing and maybe a few abnormal ones too. Like sending the D110 of the edge of a 5ft deck.
Best Mod: The Servo is going to be your best bet.
Misc Notes:
We had a lot of fun playing with the D110. I go through fazes one month when I will be using my crawlers and the next month its trail rigs. Running the D110 had us in a scale Indiana Jones adventure! Yeah, it gets high centered a bit but, as for getting around the trails with the smaller 80mm shocks, it will definitely bring out a better driver in you. The kit version comes with a full interior, in which I think should of also came with the rtr version. That minor issue is definitely not a deal breaker. The hard body looks great in any environment. Even a giant bolder chasing it out of the temple of doom can't stop the D110 form giving you the thrill of scale driving. Hooking up lights to the body are a piece of cake! The headlight buckets look realistic; I would recommend doing that hop up.
RC4WD is the only company that can get away with not having to put out a new vehicle every year; and why is that? The answer is simple, when you put out the best scale rigs, you don't need to. The D110 has been out for about a year and hear we are still talking about it. That says a lot, especially with the crawling boom in the RC hobby right now.
Check out a recent video we shot during some testing as well as the scores below.
Summary:
A= outstanding/Best in class, B = Above Average, C =Average, D = Below Average, F = Horrific
Time to bash. B. The D110 comes out of the box ready to go. Charging the stock Nmih Battery will take a few hours with the stock wall charger. Removal of the body also takes a little time with 4 screws that hold the body on to the frame.
Workability: A. This little rig is easy and fun to work on. Taking apart or working on any RC4WD rig is like working on a real 1.1 rig. The realistic scale parts are just fun to take apart.
Car Show Rating. B-. Rig looks great and is the most realistic Defender body in the market. But the lack of a full interior drops the show rating.
Bash-A-Bility. C+. For a scale trail rig it is tough as nails. But is no way basher slower speed and it's top heaviness keep it from being a basher.
Fun Factor. B+. The D110 is more flexible then its leaf spring brothers letting you have a full-scale adventure and look realistic at the same time. What stops the D110 from getting an A was the body mounts. Yes, they are that way for a reason, but can be a pain at times. Mainly because the D110 is so fun to play with any down time is frustrating.
Handling. B. Other then the high centering at times and top heaviness the handling is fantastic. If you are able to get down on the D110s level and watch this rig in action it is strangely satisfying.
Value. A. We all know that $569.99 is a hefty price but for the quality and detail you get with the D110 it is worth every penny. RC4WD does not use or make cheap parts. If you want quality, you are going to have to pay for it.
Parts Availability. B. you can literally buy every single part for the Defender D110 from RC4WDs Web site. And that's just the stock parts, not the hundreds of accessories and upgrade parts. You won't find a lot of shop pegs, but the net is your friend on parts!
BigSquid Rating: B. All of RC4WDs products are built with quality first and for most, and the D110 is none the less. If your looking to pick up a new scale rig for you next project of just something to hit the trail with right out of the box, we can recommend the RC4WD Defender D110 RTR, and find out how far the adventure will take you!