RC4WD 1/14th Scale 4×8 Armageddon Hydraulic Dump Truck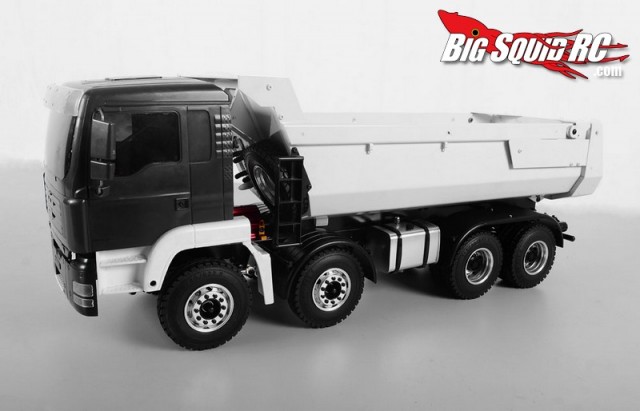 Scale realism is great for our hobby and one of the leaders in putting out scale looking product is RC4WD. Their latest product, the 14th Scale 4×8 Armageddon Hydraulic Dump Truck, is an outstanding example of just how cool scale appearance can be. The Armageddon is styled after a European dump truck and is engineered to be tough as nails. Some of its features and specifications include-
* Hard plastic European style front Cab
* Full metal 2 speed transmission (Planetary gears)
* European style V shape dumper
* Full electronic sound system (engine start, idle and more)
* Transfer case (billet alum)
* Scale fuel tank (billet alum)
* Super scaled leaf spring suspension setup
* Scale rims (billet alum)
* Remote lockable rear axle (locking differential)
* Hard plastic rear axle housing
* Steel scale drive shaft
* Realism front cab latch
* Retractable steel ladder
* Molded functional fuel tank (filled with hydraulic oil)
* Automatic trailer gate (do not attempt to open it by hand)
* Retractable steel ladder
* Rear light guard (protect against rock)
* Scale light bucket (fit 3-5mm LED)
* Recommended payload: 16kg/35lbs
* Maximum lift power: 42kg/92lbs
* Rear dump is powder coated white
* Scale fire extinguishers and spare wheel/tire
* Cylinder maximum thrust: 109kg/231 lbs
* Brushed driven motor
* 1000kV Brushless motor-driven micro hydraulic pump
* Length: 687mm/27inch
* Width: 186mm/7.3inch
* Height: 262mm/10.3inch
* Weight: 8kg/17lbs
* Theoretical load: 15kg/33lbs
* Load total mass: 23kg/50lbs
* First gear 1:16, second gear 1:4 (Transmission)
* Basic 6 channel 2.4Ghz radio
* Basic 60T 540 motor
* Gray/Black (Front Cab) and white (dump) color finish
* Powder coated finish (dump)
* 30 days limited warranty
* This product is professionally pre-assembled
* Needed to complete- Battery and charger, Hydraulic oil #VVV-S0014
* Truck part #VV-JD00007
Street price for the Armageddon is $2600 and they are available right now. For more information on the RC4WD Armageddon, and all their other fine products, HERE is the link to the official RC4WD website.
Thank goodness it's Friday, how about taking a chance on a BigSquidRC Mystery Link?
Check out the video below, the Armageddon is a BEAST!