RC4WD applies shrink ray to Ballistic Fabrication products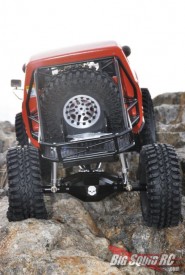 If you're looking for more ways to add a touch of realism to your scale crawler RC4WD has a couple new officially licensed products from Ballistic Fabrication for you.  If you're not happy with those big, bulky plastic kit axles you've been using then you might want to have a gander at the Ballistic Fabrication axle.  It features Ballistic's unique pumpkin style and comes loaded with 2.5:1 ratio gears, high clearance knuckles, 12mm wheel hexes, and measures 7.35″ from hex to hex.  Separate axles are available for front or rear applications.  You can get it in any color you like, as long as it's black.
Also available are faux Piggyback shock reservoir caps for RC4WD's dual spring scale shocks.  The caps are CNC machined and anodized in blue or black.  The Ballistic Fabrication logo is etched into the surface for an extra touch.
These parts will be available soon directly from the RC4WD store.  The axle's are going for $139.99 each and the shock caps are $19.99 per pair.