RC4WD Boyer 1/10 scale Truggy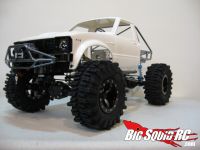 Hey rock crawlers, here's something new for you from RC4WD, check it out.  They're putting out a new 1.9″ class scaler kit, called the Boyer 1/10 Scale Truggy, that may be the most versatile and adjustable chassis ever made by an r/c manufacturer. I mean, look at it.  Look at all those holes everywhere.  The mind boggles at how many different ways you could set this chassis up.
 Here's just a short list of all the things that are adjustable on this chassis:
Adjustable wheelbase
Multiple shock mounting options
Adjustable frame mounted servo — adjusts front to rear and up/down
Adjustable rock sliders. Adjust in/out and front to back to fit any body.
Front bumper can be adjusted front to rear and up/down with a plate to mount a winch.
Beyond all that, the complete kit comes with RC4WD's popular and durable T-Rex axles, a full compliment of their OEM Steel 1.9″ wheels, some fat Rock Crusher meats, full ball bearings, dual spring shocks, a Bulldog 9500XT metal winch, plus more.  The kit is designed to fit Tamiya's Hilux, F350, and Tundra hard bodies, or it can be adjusted to fit any other polycarbonate bodies.  If you don't want the full kit, you can also get the chassis by itself and then mix-and-match your favorite parts.
The kit has a going price of $599.99 while the chassis only option is set at $299.99. Find out more about this John Boyer engineered piece of art at the RC4WD web site.