RC4WD has something new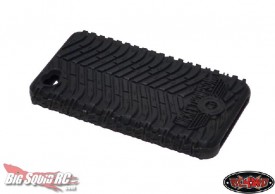 RC4WD's latest product is not anything you would have expected. It's a.. ahem… iPhone case… But it's not just any iPhone case. It's an officially licensed Mickey Thompson case. Featuring a design lifted straight from the legendary Baja Claw tire tread, it also has a Mickey Thompson logo molded in. The case is made for the iPhone 4 and 4s models, so all you guys stuck in the stone ages with the 3 and 3g are left out in the cold.
The Mickey Thompson iPhone case has a MSRP of $19.99, but RC4WD is selling it for a paltry $16.99. Hit up the RC4WD web site for more info.