It's a bird, it's a plane, no, its RC4WD with a scale Rock Racer! The New RC4WD Miller Motorsports Pro Rock Racer is a first of its kind from RC4WD. So, did they leap in a single bound, or did they fall off the boat? Find out now, because this is the Big Squid RC Review of the RC4WD Miller Motorsports Pro Rock Racer!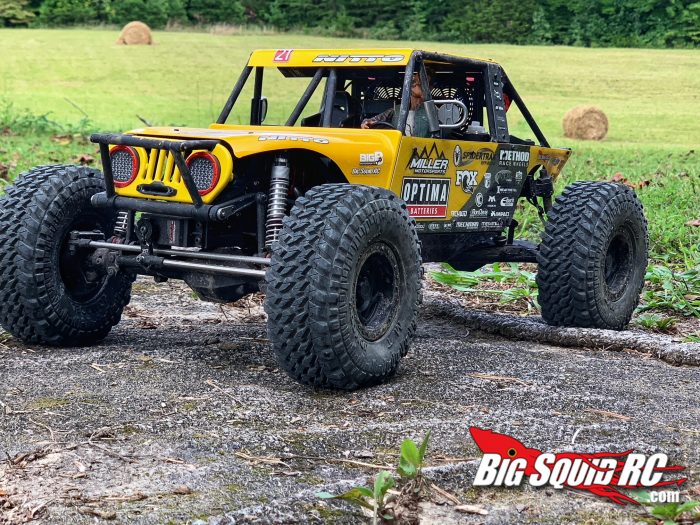 From: RC4WD
Direct link: RC4WD Miller Motorsports 1/10 Pro Rock Racer RTR
Running Film: RC4WD Rock Racer in Action!
Unboxing video: RC4WD Miller Motorsports Rock Racer Unboxing
Review By: Jeremy Griffith
Photography By: Mitch Coner
Test Drivers: Jeremy Griffith, Christian Noel
Specs:
RTR or Kit: RTR
Ages: 14+
2wd or 4wd: 4WD
Shaft or Belt: Shaft
Electric or Gas:  Electric
Waterproof: Water Resistant
Scale:  1:10
Shocks: Dual front and rear shocks
Wheelbase: 354mm (13.94″)
Motor: 1200KV Sensorless Brushless Motor
Low voltage cut off: yes
Radio: 6-channel radio
ESC: 2-3s 360 Amp ESC
Servo: Twister Servo
Screws: Hex
Chassis: injection molded design
Bearings: Yes
Tires:  2.2″ Grappler scale tires
Wheels: 2-piece Beadlock Wheels
Part Number: Z-RTR0061
Street Price: $499.99
Run Time (measured by BSRC) 2hrs with a PitBull RC 3s 3400 MAH
Top Speed: 20 MPH or so
Primary Competition: Axial adventures, Redcat Racing, Element RC.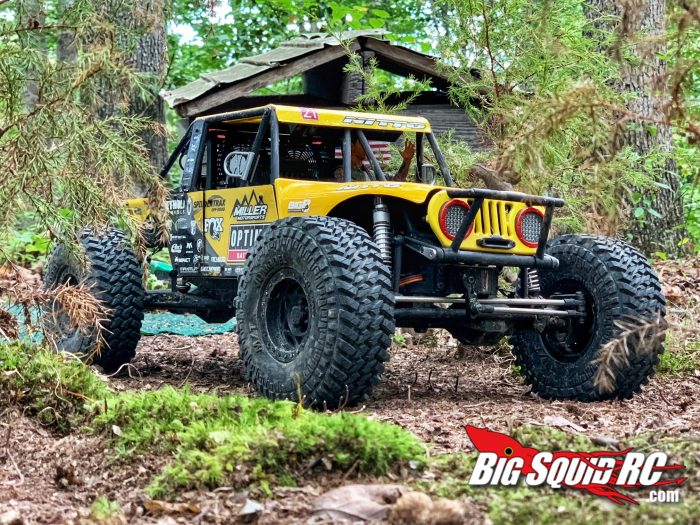 Build Quality: The rig came out of the box in great condition. The packing is good quality and ensures the safety of the rig.
Set up notes: Before you head out to drive the RC4WD Miller Motorsports Pro Rock Racer you will want to go over the remote functions. The diffs lock and unlock with a twist dial, so learn the layout to avoid any confusion.
Test Venues: Daniel Boone National Forest, PC Park Sumerset Kentucky, Big Squid RC Farm.
Turning: Box stock the rig can turn great and performs well under a load. The New RC4WD Miller Motorsports Pro Rock Racer is probably the first rig from RC4WD that can do cyclone donuts. Just watch out if you're driving on pavement. The rig has a lot of grab, and will flip easy on the pavement.
Crawling: Being a Rock Racer, you wouldn't expect much when it comes to doing some slow crawling. This is one of those rigs that keeps surprising you with its ability's. While crawling and scale trailing the rig was on point in all aspects. Watching the RC4WD Miller Motorsports Pro Rock Racer drive and overtake obstacles, is like watching the real 1.1 in action. The suspension is downright beautiful and works as well as it looks. We did notice while doing hill climbs in second gear, the motor will stall out if the rig is stopped by an obstacle. We found down shifting on the fly helps. The motor has a slight delay while in high gear, almost acting like a power band. That delay is enough to stall you out in high gear if dead stopped by a rock or root. While the tires are 2.2s they fit the rigs style and scale. When it came time to race around the rig did amazing. Soaking up the terrain like a sponge the RC4WD Miller Motorsports Pro Rock Racer will get the job done in your next U4 Competition!
Broken parts: I thought for sure that this part of the review was going to be filled with parts. RC4WD is known for super scale rigs and parts, not basher style rigs. Out of the box, you will get overwhelmed with scale goodies that are all over the rig and think they are goners after the first run. We were not easy on the RC4WD Miller Motorsports Pro Rock Racer, after all the beatings all we broke was the little rubber part on the bump stops. If the rig gets a hard full compress, the bump stops will slip over the rear axle and get stuck. Find yourself a pencil with a black eraser top and replace the stock stoppers with the eraser head.
Best Mod: The stock servo is good, but replacing it with a stronger one is always a good option. Higher end servos will also add some weight to the front, helping keep the nose down for traction. Would also like to see some different tires.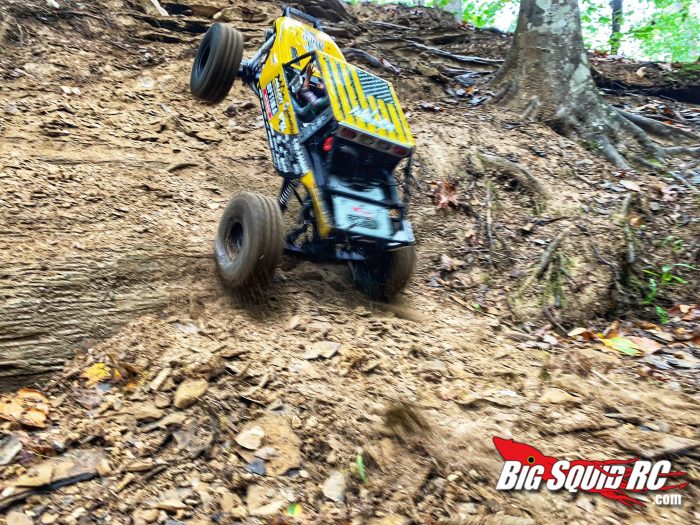 Summary
Time to bash: I will be honest; it took me way longer than it should have to find where the battery goes. Its well-hidden, with that said it takes no time to get out on the trails.
Workability: The RC4WD Miller Motorsports Pro Rock Racer will be more of a challenge to work on compared to the TF2. The Body panels all come off to access the inside. Being super scale is awesome but takes longer to work on.
Car Show Rating: Over the years we have seen some wicked rock racers come out. None of them come close to the RC4WD Miller Motorsports Pro Rock Racer in looks. The scale details are all over the truck, full interior big enough to fit a 7-inch driver in without any hacking. Fuel cell with all the lines and a detailed V8 Crate engine housing the RC4WD Pro Rock Racer is next level for scale RC.
Handling: The Rig can get bouncy at high speeds, but that is to be expected. On the trails the rig handled like a well-tuned instrument, hitting all the right notes in perfect time.
Value: When I received the Miller Motorsports Pro Rock Racer, I wasn't told the price. Without that information, I was assuming it was going to be in the price range of, 700 – 800 dollars. With all the scale parts, brushless motor, and all the licensed sponsors, that seemed like a good price point. RC4WD Did an amazing job at keeping the value down to a street price of $499.99!
Parts Availability: As of now RC4WD will be the main source for parts. After a few months you will start to see more part availability.
Big Squid Rating: RC4WD has done something that some companies struggle with. Stepping out of their normal, and not only trying something new, but nailing it in the process. From all sides the New RC4WD Miller Motorsports Pro Rock Racer is a great rig, and well worth the price!
Check it out in action! Please make sure to subscribe, hit the like button, and hey leave a comment!

Unboxing video: