RC4WD officially licensed Interco Super Swampers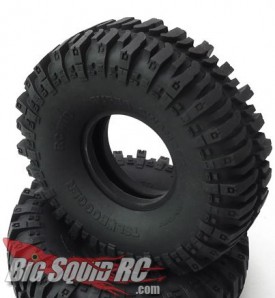 RC4WD is stepping their game up and bringing more officially licensed awesomeness to the scale builder's tool box.  Not content with just offering Dick Cepek Tires, the group at RC4WD has decided to also grab one of the other big dogs in the field and now have Interco's Super Swamper TSL/Bogger in their stable of tires.  The details that they were able to capture in their mold is mind-blowing.  Everything you expect to see on the full scale tire is there on this 1.9″ class tire.  They'll be offered in RC4WD's soft and sticky Advanced X3 compound, so they should give you more traction than you'll know what to do with.  RC4WD also makes the claim that this is the tallest 1.9″ tire on the market.
The Super Swamper should be available on November 15th at a price of $24.99 per pair with foam inserts and an Interco decal sheet.  Check out the RC4WD store for more info.
RC4WD Interco Super Swamper gallery