RC4WD T-Runner Scale Body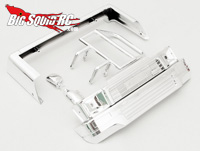 New from the folks at RC4WD comes the T-Runner Lexan Scale Body. It comes with molded front and rear bumpers, mirrors, and wiper blades! Also window masks and decals.
As an upgrade to your T-Runner body from the stock black parts, they have a chromed set that includes Front Bumper with grill, rear bumper, mirrors, wipers, and brush guard!
Visit RC4WD for more info!