Readers Letters Answered Here- Ask Cub Reporter Version 02.10.2010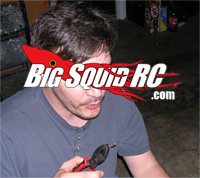 I must say, we've got some real "winners" as readers. Our first letter of the week is proof positive. 🙂
===
Brian
I just want to let you know the heat sensor came. I also want to tell I will no longer be send any pictures for this contest. I have a funny feeling that the savage and the rest of the nicer prizes went to your guys. I have been watching your site there has been NO posting of these prizes that you site receives. ALL YEAR good luck with your site.
please don't respond back because I don't care.
Brian M#########
===
Ok, ok, so this one wasn't addressed to me personally, but I just love hate mail. What this Brian Matuzmybrainissushi is bitching about is the FREE prize he WON from BigSquid. BigSquid always has contests going on where all you have to do to enter is to submit a pic of your pimp'n ride with a BigSquid sticker on it. It seems this guy is pissed off that he won a prize. LOL He also thinks that all the "good stuff" is given away to to predetermined people. Well, I can tell you first hand that Brian (editor at large) at BigSquid is always freak'n because some guy in Sweden won this or that and it's gonna cost 80 bucks to mail his prize to him. LOL. Now I know Mr Brian Matuszlikesbukaki won't be reading this reply, but if you do happen to accidentally read this, your next hate mail really should have much rougher language and at least one threat if you hope to have any shot at making hate mail of the year. Thanks!
==========
Cubby,
"F1" of off-road is fine, but since the 1/10th scale SC trucks are nearly as big as the current 8th scale buggies!! That ain't cool. Drop the current buggies format and turn the truggies into the new buggies. They can be "alienesque" just like F1, but they need to be bigger and faster than some mere 1/10th scale wannabe.
Chris Schletter"
What up Chris? To boil it down, in Cubby's world, there would only be one rule for "F1" class- your ride has gotta fit in "this" size box. Doesn't matter if it's nitro or electric, doesn't matter if it has one engine or three, doesn't matter if it's got rubber tires or foam, doesn't matter if it runs on 1S or 20S, it just needs to fit inside a certain size box. Give all the manufactures lots of room for some uber new engineering to take place. For racing at the local level, short course needs to be the standard, for pro level racing, bring on the esoteric "F1" gear.
==========
That's it for this edition of "Ask Cub Reporter", see you bright and early Monday morning for THE Cub Report.
YOUR Cub Reporter