Redcat Monsoon XTE Review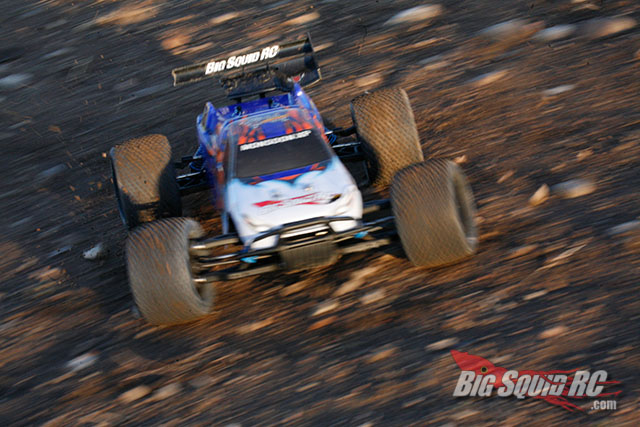 A couple of Redcat Racing's vehicles have appeared in the review section here on Big Squid over the last few months.  And they've gotten positive numbers and comments from those that have tested them.  It was because of those reviews that I decided to purchase a Redcat Monsoon XTE, which is a 1/8 scale brushless truggy.  I first saw this truck at the IHobby 2011 expo and was somewhat impressed by what I had seen.  So that got me thinking that perhaps Redcat's products have changed for the better.  Maybe they've learned something from their rather durable and well built large scale cars and applied that to their new line of smaller stuff.  Possibly, Redcat has made a good kit.  I've been trying to review this truck for quite a while now, after many false starts and nagging issues.  There comes a time when one has to stop and say "I've been fooled."

Disclosure: I paid for this truck out of my own pocket and bought it from a third-party retailer.  Redcat did not send the Monsoon XTE to be reviewed by us and while they may have been aware of us reviewing it, I never identified myself to Redcat as a Big Squid RC contributor.  All customer service calls and orders were made as a normal customer.
Specs:
Age: 15+
Length: 550mm
Width: 440mm
Height: 198mm
Wheelbase: 370mm
Ground Clearance: 42mm
Weight: Slightly over 10 pounds with batteries
Chassis: 6061 Aluminum
Drive train: 4 wheel drive, 3 sealed gear diffs
Shocks: Oil filled Metal Shocks
Radio: 2.4GHz Radio System
Motor: 1755kV Brushless
ESC: 80 amp, 4S
MSRP: $459.99
Street Price: ~$400
What's in the box:
The truck is 99% assembled, you just need to put the wheels on and thread the antenna through the tube.  A no-frills, rather cheap feeling 2.4 GHz radio system is included.  It works well enough but I dumped it in favor of my Futaba 4PK after the first couple runs.  You'll also find a small parts and tools bag.  Two unbranded 2S, 30C, 3600 mAh LiPo batteries and a slow balance charger pretty much round out the package.  The manual isn't specific to this model and includes generic instructions for all of the types of vehicles Redcat makes.  It's kind of odd finding nitro engine break-in procedures in a manual included with an electric vehicle.
Build quality:
Hit and miss might be an apt description of the Monsoon XTE's build quality.  Some things that were done on this truck at the factory were good and proper.  Others were rather puzzling as to how they could have messed it up.  The nicer items included properly set gear mesh between the pinion and spur gear, fully filled shocks that didn't leak, preload spacers installed to give a good ride height, thread locker on all the metal-to-metal screws that I checked and neatly managed wiring.  A few of the issues included a lower cap on one shock that was overtightened and stripped, a missing shim in the rear differential that would later cause problems and an overtightened screw that had stripped the threads out of a plastic part.
The sealed differentials showed evidence of receiving at least a little grease to keeps things running smooth but no diff fluid was present, though there was no sign of leaking on the chassis or in the box.  I filled them and they are still full after a few runs so the seals and bearings are doing their job.
Overall build quality was unsatisfactory for my kit.  I generally give manufacturers the benefit of the doubt when it comes to their product assembly.  Just because mine wasn't assembled perfectly, that doesn't mean that every product that comes off the line is the same.  If you decide to purchase a Monsoon XTE, your experience may differ, but I highly suggest you give it a good inspection before driving it.
Performance testing:

The brushless system in the Monsoon XTE is overflowing with power.  The included LiPos pack enough punch to keep up with the energy sucking brushless system.  This truck just wants to go fast.  Braking is also very strong and easy to control.  The Monsoon flies well off jumps and is very responsive to throttle and brake inputs throughout it's hang-time, despite it's 10+ pounds weight.  It does have a bit of under-steer.  The stock suspension setup is plush, very plush.  Lifting the Monsoon just a foot off the ground and dropping it results in a VERY slow rebound and settling.  That would be fine if this were a Cadillac.  But it's not, it's purportedly a racing truggy.  Some stiffer springs at minimum are necessary if you plan on racing with the Monsoon XTE.  Stiffer sway bars would probably help as well, as the stock ones don't seem to do much of anything.  Though with that super soft suspension it is pretty fun to drive in the really rough stuff and, other than bottoming out off every jump, makes for a decent bashing setup.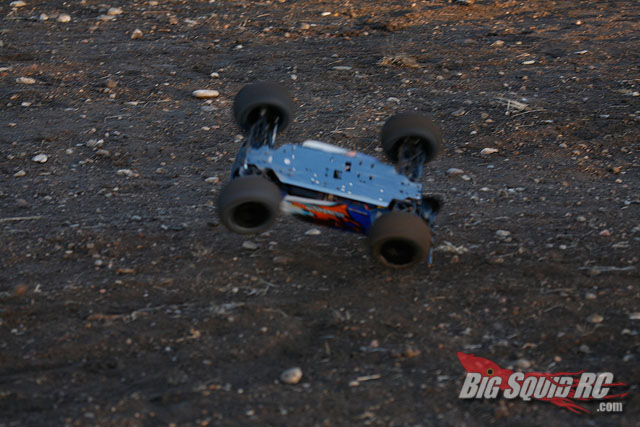 Durability testing:
Nothing that I've done to this truck would be considered extreme, even if you were to dismiss our ridiculously high standard of extreme and go with a more sane definition.  The rather light beating the Monsoon XTE was subjected to could be compared to pretty much any normal day at any track.  A couple bad landings, a few traction rolls, and some wrecks among other vehicles.  About the only qualified Big Squid test I was able to do was a high jump off a 15′ roof.  I didn't drive it full speed into a wall or tumble it down stairs or fling it around a skate park.  I didn't have a chance to.
On my very first outing I had a bad landing and snapped a rear suspension arm only five minutes into the first battery.  Also, remember that missing shim in the differential I mentioned above?  It caused a major problem, after just that one short run the diff's spider gears were stripped and the truck wouldn't move at more than a snail's pace along with making a huge amount of grinding noise.
After repairing the a-arm, replacing the diff gears and making sure a proper size shim was installed I got back to it.  But it wasn't long before the stock servo died without any hint as to reason.  It just went to full right lock and stuck there.  Strike two.  I put in a warranty claim on the servo and Redcat replaced it without any fuss, though the servo was out of stock at the time, so I had to wait… and wait… and wait.  While I was waiting for the replacement servo to arrive I decided to buy a much more suitable servo for the Monsoon.  The stock servo provides about 125 oz/in of torque which, in a massive truck like this, just isn't enough.  I installed a Hitec HS-7955 which offers 333 oz/in at 6v.  Much better.
With the servo issue solved I went on back to our private bash park and started over again.  This third run proved to be the final straw.  It only lasted 25 minutes.  I hit a few jumps, did a few donuts, nothing extreme.  Suddenly I heard another terrible grinding sound.  It turned out that I had somehow broken a front axle.  I didn't have a replacement but I decided to carry on anyway.  Soon after a rear shock shaft broke and I'm still not quite sure why.  I didn't have any really bad landings, I didn't seriously wreck it, it just seemed to snap from the rough, rutted and rocky terrain.
I figured now would be the time to toss the Monsoon on to the 15′ roof and jump it off, before anything else broke and I didn't get a chance at all.  Surprisingly, this didn't cause anything to break, the Monsoon flew flat after a slight throttle blip to level it out, landed smooth on the flat ground and drove away.  It wasn't long after that, hitting just a regular jump and having a decent landing, that the front hub decided to snap.  And that's when I decided to throw in the towel.
List of broken parts:
From beginning to end, all the Monsoon did was break.  Keep in mind all of this happened in the total span of less than three full battery packs, about an hour of run time.
Rear lower arm
Rear diff spider gears
Front universal drive shaft
Rear wing
Front hub
Shock shaft
Servo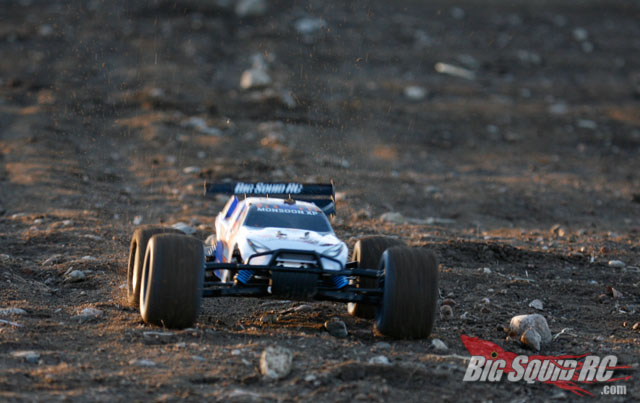 Customer service:
To Redcat's credit, every time I contacted customer service or technical support, the representatives I spoke with were kind, courteous and knowledgeable.  They were able to identify parts I was explaining to them and provide proper part numbers for easy ordering.  They were able to help diagnose issues and explain the best way to resolve them.  The warranty replacement I went through was handled with no fuss, they apologized and replaced the part.  Nearly every order I placed through Redcat's website was packed and shipped from their warehouse the same day I placed the order.  As far as customer service goes, Redcat Racing is tops.  If only their product matched their service.
Best mod under $5:
The high amp bullet style battery connectors that come stock are nice and will pass a lot of juice without any problems, but they aren't really standard in the RC world.  I swapped them for some Deans' connectors.  Traxxas connectors would work just as well.
Best mod over $5:
A different truck.  If you're adamant about having a Monsoon XTE, a high torque servo such as the Hitec HS-7955 will do a much better job of swinging those massive wheels left and right.
Bottom Line:
I won't be fooled again.
Summary
Time To Bash

 8/10

Charge the included LiPo batteries, put the wheels on, thread the antenna and go. Use a good charger, rather than the included one, to get going even faster.
Workability

 8/10

Easy to work on, which is good, you'll be working on it a lot.
Car Show Rating
 6/10
I like the looks of it well enough, but it's only available in one color.
Bash-a-bility
 0/10
I'm used to breaking things, it's a part of bashing, but not getting a full battery through the truck once without breaking anything is ridiculous.
Fun Factor
 0/10
If your idea of fun is fixing rather than driving, this truck is for you.
Handling
 7/10
Handles well enough for bashing, needs plenty of tuning for racing.
Power
 9/10
Gobs of power.  Enough that you probably won't be left wanting.
Value
 3/10
It's a 1/8 scale truggy available for less than $400 from certain outlets.  But that just means it's cheap, not a value.
Big Squid Rating

 0/10 Tentacles

Way too fragile, even for racing.  Combine this with build quality issues and all I have to say is avoid this truck at any cost.
As with all of our stuff, if you see us at a bash, stop by and check out the vehicles we have with us. We may let you take a test drive, and at the very least get you some stickers!