Redcat Racing Monsoon XTE Unboxing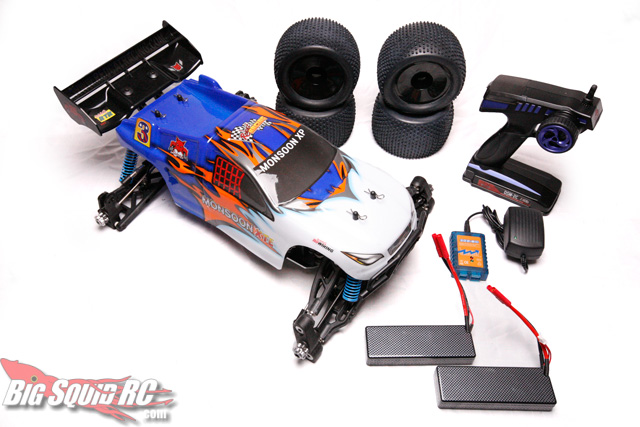 This just arrived on my doorstep, courtesy of the fine folks in the big, brown trucks. It's Redcat Racing's latest vehicle, a Monsoon XTE, 1/8 scale brushless truggy. I thought I'd share some photos and info with all of you.
Inside the box you'll find the big Monsoon XTE, nearly 100% assembled. You just need to put the wheels on and thread the antenna through the tube. A no-frills 2.4 GHz transmitter is included, along with two unbranded 2S LiPo batteries and a balance charger for those batteries. A small parts bag is also included, with a few shock clips and a couple other small replacement parts. The only tool in the box is a hex wrench for installing the wheels. You'll also find the usual assortment of instruction manuals, parts catalogs, and other paperwork.
My first impression of the Monsoon XTE is that it's a very substantial truck. The thick, aluminum chassis and numerous braces, along with the bulky a-arms and massive shock towers lead me to believe that this is going to be a tough truck. A ton of material has gone into it. But, just because something is made of a lot of materials, that doesn't mean that those materials are high quality. So to test those materials we will be getting our bash on at the Big Squid RC Institute for Bashing — Rocky Mountain Region, test park, located in a highly secret location between many military installations. Our test park (which is rumored to be built over a UFO crash site and once served as an Army artillery range) is purpose built for bashing, featuring a whole lot humongous jumps, a giant table top/pyramid, and many, many roofs of varying heights to drive off. Not to mention open space galore for long jumps and fast speed runs.
Anyhow, have a look at the rest of the photos and keep an eye out for a full review, coming in the next few weeks. For more info about the Monsoon XTE, check out the Redcat Racing website.