Redcat Rampage MT 1/5th Scale Monster Truck Review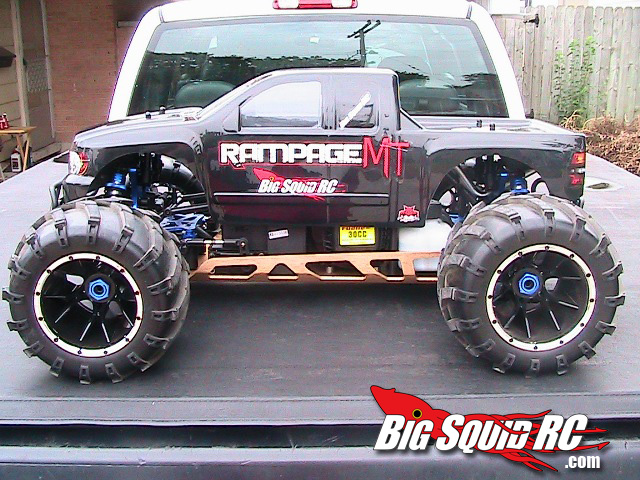 5th scale monster trucks are the biggest, baddest boys in the rc world. I've been giving the Redcat Rampage MT a good old fashioned BigSquid torture test for the last few weeks. How did it hold up? Read on to find out.

From: Redcat Racing
Direct Link: Rampage MT
Where to Buy: http://www.redcatracing.com or your local dealer.
Review by: Craig (Crazy ramp builder guy)
Photos by: Craig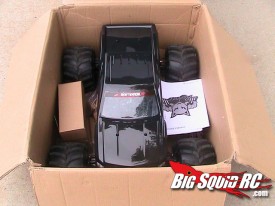 Specs- –
RTR or Kit: ARR (almost ready to run if clear body), RTR if painted
Age: 14+
2wd or 4wd: 4wd
Electric or Gas: Gas
Scale: 1/5th
Length: 740 mm
Height: 350 mm
Width: 600 mm
Wheelbase: 516 mm
Weight: 33.4 lbs dry
Ground Clearance: 72 mm
Engine: 30 cc HY 2 stroke
Radio: Redcat DSM-2C 2.4 GHz
Steering Servo: 2 x 416 oz/inch
Throttle Servo: 125 oz/inch
Receiver Battery: 2200 mah (charger included)
Transmission: Single speed
Differentials: Oil filled
Driveshafts: Steel
Screws: Hex heads
Shocks: Metal bodies, Oil filled
Chassis: 4 mm Aluminum 6061T6
Brakes: Dual disc
Fuel Tank: 700 cc
Tires: Redcat monster chevrons
Waterproof: No
Street Price: $800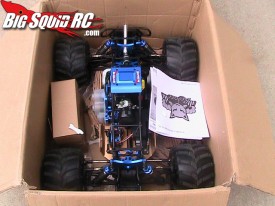 Primary Competition– MCD Sport Monster Truck, Losi 5ive-T, HPI 5T
What's In The Box: Rolling chassis, 4 tires and wheels pre-assembled, 2200 mah Ni-Mh receiver pack with charger, fail-safe, Redcat DSM-2C 2.4GHz radio system, body (clear or painted) and tools.
Break-in: The manual that comes in the box says to run 2 stroke oil 20:1- 25:1 for the first 8 hours then 30:1 or so. It also says for the first 4 hours to never allow the engine to run more than 5000 rpm. I don't know what the rpm range of a 30cc HY motor was so I called Redcat's customer service and asked them. They told me they recommend running 4 full tanks at ¼ throttle or less to beak the engine in, a task that took about 7 hours. I think waiting an hour to charge my batteries is too long. Having a 2 stroke running for 7 hours on my porch was NO FUN for me or my neighbors. Redcat's customer service also recommended running 25:1 for as long as you own the truck.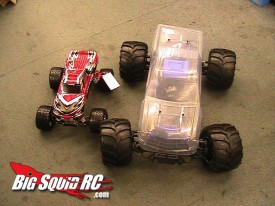 Test Drivers: Craig, Cameron
Test locations: We have been monster trucking everything in sight, my Rustler and Bandit are like speed bumps. We have run it in parking lots, bash spots, in my yard, and we ran over to LargescaleRC "Scrap yard play day" to run on a 5th scale dirt off road track and oval/ figure 8.
Looks: This thing is awesome, it's huge. It makes the 8th scale trucks look small. The body on the Rampage is modeled after the 2011 extended cab Chevy. The wheels are true beadlocks. The wheel are a black 5 wishbone design with chrome beadlock rings. The tires are a split chevron design like the Pro-line Masher, they are MASSIVE- about 8" tall and 5 ½" wide.
Power: 30cc HY two-stroke engine. I'm running 93 octane and AMSOIL Saber PRO Synthetic two stroke oil. I'm a brushless power junky and have never run nitro or gas before. I had problems keeping the Rampage engine tuned. The tune seems to change a lot during driving. Most of the people I talk to say to put a Walbro carb on and change the mix ratio to fix this problem. The Walbro carb will also smooth it out and make more power. Off the line this power is soft. The top end is not what I think it should be. I plan to put a Walbro wt-813 carb, RB Innovation Hyper charger and CPI Racing tuned pipe on it to improve the power. The guys I have met that run 5th scale say that will give me about 2 – 2 1/2 horsepower over stock. The stock setup is around 3 ½ – 3 ¾ hp. I will post reviews of all the upgrades as soon as I get them on. I just saw the RB Innovation direct injection nitrous system. I'm going to put that on my list for Santa.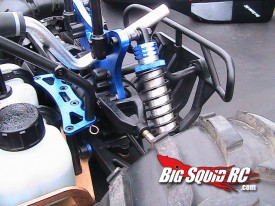 Jumping: We jumped it off a 18" tall, long jump style wood ramp and were flat landing on grass. Then we hit the dirt jumps on the off-road track at Largescalerc's scrap yard over and over with no problems. The Rampage is hard to control in the air. I decided to push it by hitting an 8′ long, 3' tall, long jump style wood ramp. The 35 lbs Rampage MT didn't like the drop from 8 foot+ high in the air landing on its nose.
Durability: I've been running over everything I can find- curbs, grass, concrete, asphalt, dirt jumps, small wood jumps, and other RC trucks. I haven't broken any chassis or driveline parts. I did have 2 motor mount screws come out the first day of driving it around. The body did get cracked, and I managed to tweak the chassis between the motor and the throttle servo, making the throttle stick enough that it keeps moving unless I hold full brakes. This happened after I nosed it in from 8 feet+ in the air. Before Brian or I get emails I Know jumping a 35lb monster truck 8"+ feet in air and landing it on its nose is probably not something Redcat was thinking about when they designed the Rampage MT, but I'm the Crazy ramp builder guy and this is BigSquidRC, so above and beyond torture is expected during our testing.
Overall: I really like the Rampage MT. It's 4wd, it's loud, it's huge, and it scares the "RACERS" with their T4's and XXXT's when I pull out on the track, LOL!!!!! The stock radio is very basic and easy to use. The transmitter is a little bottom heavy with the 8 AA batteries but it does have a charging jack if you like to use rechargeable. We haven't had anything break, but the body has cracked and we lost 2 motor mount screws. The engine tuning thing is a little annoying but maybe I can get it worked out.
Value: $799 from Redcat or $730 from most dealers is great for a 5th 4wd monster truck. The MCD Sport Monster Truck is priced at $1200, the Horizon/Losi Racing 5IVE-T is at $1600, and the HPI 5T sits at $1300 (and its only 2wd), I'd say the Redcat is a good value.
As with all of our stuff, if you see us at a bash, stop by and check out the vehicles we have with us. We may let you take a test drive, and at the very least get you some stickers!
SUMMARY
Time To Bash – 5.0/10 – The break-in blows.
Workability – 9.0/10 – The chassis layout is simple. Everything is huge so there no small screws to drop and roll out of sight.
Car Show Rating – 9.0/10 – Chevy body, huge tires, chrome bead lock rings.
Bash-A-Bility – 7.5/10 – It's not waterproof. It doesn't like big jumps to flat landings.
Fun Factor – 8.0/10 – I don't like engine tuning but everything else is Awesome!!!
Handling – 7.0/10 – It's a 5th scale monster truck. It might have 2 x 416 oz steering servos but don't expect it to cut a tight corner.
Power- 6/10 – Soft low end power and mediocre top end.
Big Squid Rating – 7.3/10 – The Rampage MT is fun to drive, it looks awesome, it's huge, and you can easily wake-up your neighbors on Sunday morning with its loud exhaust note.