Reedy 447-S Peak Prediction Charger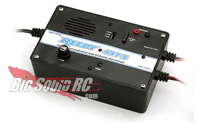 Some info on the new Reedy 447-S AC/DC 4-7 Cell Peak Prediction Charger.
The new charger is simple, easy to use, and offers the ability to charge most of the popular NiMH and NiCd battery configurations out there. It has new stat-of-the-art- peak prediction circuitry to protect batteries from damage due to overcharging.
If you are looking for a charger, and don't want to make the jump into the LiPO world yet, this might be the charger you are looking for.
Check out ReedyPower.com for more information.