Reedy Sonic and LRP SXX Version 2 Combos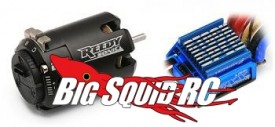 Reedy Sonic brushless motors and LRP SXX Competition v2 combos are the perfect hook up for your 2WD on-road/off-road applications where ESC size is a concern. Sonic motors and SXX TC-Spec v2 combos will rock your 4WD applications, and Sonic motors with the SXX Stock Spec v2 combos are perfect for SPEC racing. All are available now from Team Associated now, and promise some big performance.
Check out Team Associated for all the specs!