Whenever a hobbyist becomes interested enough in the world of r/c truck & tractor pulling to try and stick their toes in the water, the first thing that comes to mind with most is probably the actual pulling vehicle. This subject isn't that difficult to find information on though, at least not if one is good with Google. Heck, thanks to the scale era it's super easy to just convert a box stock rig into a puller with hardly any modification.
The problem arises when one moves onto the second part of the equation- finding a weight transfer sled.
What's a weight transfer sled, you ask? It's a device that is similar to a trailer in which a box filled with weight starts over the rear axles and moves forward over a skid plate as the pulling vehicle goes down the track. This means that it starts as a rolling weight and by the end of the run is a dragging weight which stops a truck or tractor. The object of pulling is to see who can pull it the farthest.
Finding a sled used for r/c pulling can be very tough. Getting a new one means either doing a one off job yourself or finding someone that custom builds them. There is one other solution though…if you can find one.
Enter the MaxTrax Eliminator Pulling Sled.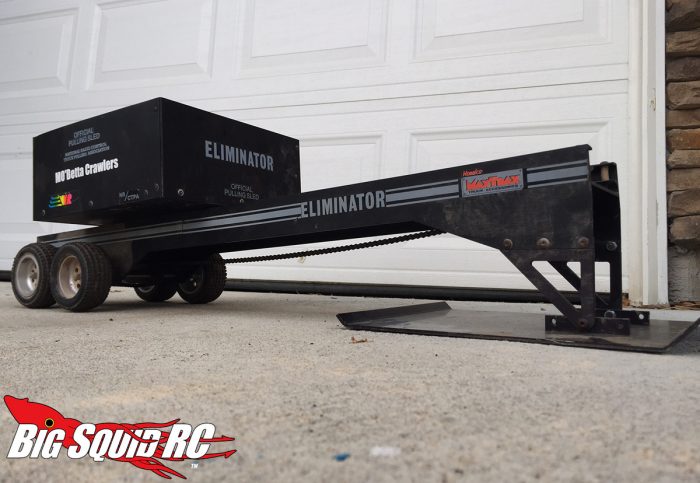 The Eliminator, produced by Hobbico in 1990, is a fantastic piece of equipment. Built out of extruded aluminum and featuring a heavy duty chain drive, these suckers are the cat's meow all these years later. They have a smooth pulling action and are light enough by themselves (around 12 lbs) for even a basic RTR scaler to pull, yet they can hold a lot of weight in the box should you need to stop a more powerful, purpose built puller. The components are also easy to maintain and/or mod.
For a brief history lesson, the Eliminator project started in 1988 as a one off custom build by then National Radio Control Truck Pulling Association (NRCTPA) President & founder Dave Sproul. Luckily, this sled still exists in pristine condition! It's a show piece in collector Mike Krieger's collection, and he was kind enough to give me these pics. In addition to the sled, he also has several classic pulling trucks, also built by Sproul.
Three more of these sleds were built (although slightly different) and, soon after, Sproul was hired by Hobbico and the final production Eliminator was developed. As a cool aside, he is still with the company today!
Here is a magazine advertisement from around that era.
While they never exactly sold like hotcakes during their production run, enough were moved that it was somewhat easy to find one for a reasonable price on eBay throughout the 90's and 2000's. R/C pulling was still relatively underground. Since the scale explosion of the late aughts, however, their value has shot through the roof. They go for upwards of $500 nowadays.

You know, one can't help but think that someone would do alright re-releasing this bad boy to the big audience of scale truck aficionados that populate the hobby nowadays. Wink, wink, Hobbico!

As luck would have it, I FINALLY scored one. It's for my r/c monster truck club to use in sled pull drag racing, much like they did back in the 1980's. We already have a member that owns one, so mine will make two. Here's a clip for an example, starting at 32:52. Bigfoot destroys the tank truck!

For additional reference, he's a shot from one of our recent events showcasing an old school monster making a pass down the track, wheels up.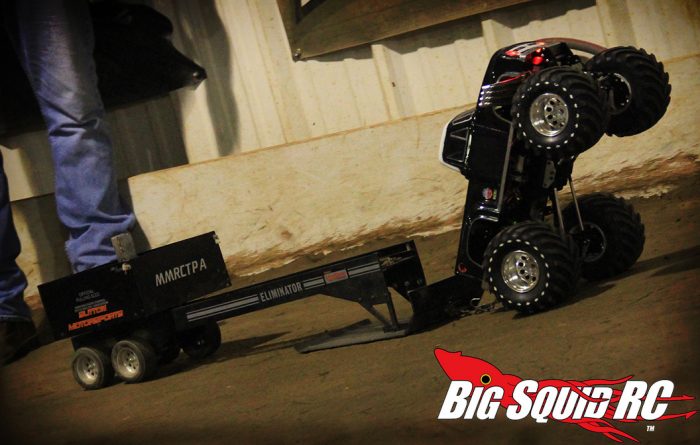 My "new" Eliminator, seen in the second pic from the top of this article, is in really good structural shape but desperately needs a good deep cleaning and chain adjustment. I'm also going to give a completely new paint job, mimicking a class 1980's scheme ran on a full size sled.
You can look for the complete tear down and rebuild in a couple weeks!