Review – 1/10 Amp Crush 2WD Monster Truck Brushed RTR
The folks at ECX and Horizon Hobby have been releasing out all sorts of r/c vehicles geared towards beginners or budget-minded hobbyists over the last couple of years, and the 1/10 Amp Crush is their latest entry in the always popular ready-to-run (RTR) 2wd monster truck segment of the hobby. How did it fare after extensive testing? Read-on to find out.
From: ECX
Direct Link: 1/10 Amp Crush 2WD Monster Truck Brushed RTR
Unboxing Video: ECX Amp Crush Monster Truck Unboxing
Review By: Doug Welker
Photography By: Doug Welker
Specs:
RTR or Kit: RTR
Age: 14+
2wd or 4wd: 2wd
Shaft or Belt: Shaft
Electric or Gas: Electric
Waterproof: Listed as water resistant
Scale: 1/10
Length: 18″ (457mm)
Width: 12.5″ (317.5mm)
Wheelbase: 11.75″ (298mm)
Weight: 5 lbs
Motor: Brushed 20t
Speed Controller: 2-in-1 ESC/RX
Low Voltage Cut-off: No
Radio: ECX 2.4Ghz 2-channel
Differential: Gear
Driveshafts: Plastic
Shocks: Oil-filled
Servo Saver: Yes
Screws: Metric/hex
Spur/Pinion Pitch: 48p
Bearings: Yes
Tires: ECX M/T Chevron
Battery: Dynamite 1800 mAh NiMH 6 cell
Part Number: ECX03048T1
Bashing Specs:
Wheelie on demand: If you have a good Lipo battery and a high bite surface, yes. If you have neither of those things, no.
Backflip off ramps: No
Stability Control: No
Sound Module: No
Self-Righting: No
FPV: No
Top Speed: 13mph on included 1500 pack, 19 mph on 2S Lipo
Runtime (measured by BSRC with included 1500 mah pack): Around 10 minutes
Street Price: $149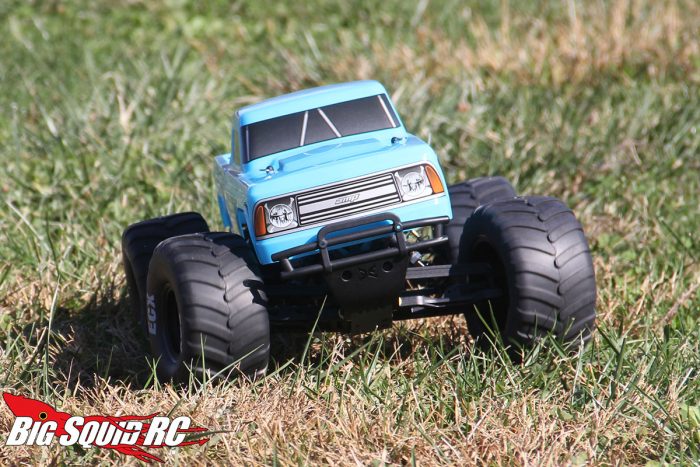 What's Needed To Complete: Nothing. Everything you need is included in the box, even the AA batteries for the transmitter.
Build Quality: Construction was solid. One of our front wheel nuts was a bit loose. Other than that, good to go.
Test Drivers: Claude Buster (aka Chris Blank), Lily the Explorer, a gaggle of kids, several other monster truck drivin' buddies and Yours Truly
Test Venues: Several local parks, playgrounds and front yards, Trigger King R/C Monster Truck Arena (Vinyl Images in Fenton, MO)
Set-up Notes: As this truck has everything in the box and is geared towards newbies getting into the hobby, we took the approach they probably would – opened the box, charged the battery, put in transmitter batteries and started pounding the pavement.
Turning: The biggest downside to this model is that the servo is quite weak, resulting in a truck that doesn't want to turn very tight. For long time hobbyists, in stock form the Crush feels similar to a Tamiya Lunchbox. What I mean by that is that to really get it to turn, you need to be on the brakes. The added pressure on the front helps the servo to turn the wheels. Because of this, the servo is the one component that we'd want to upgrade immediately. We highly suggest the RPM RC Servo Savor (RPM73492)
Grass: We did a lot of driving in the grass and as long as it didn't get too thick and deep, the truck was fine. It has a high ground clearance and can go over small rocks and roots. The only issue in wooded area was heavy undergrowth where the 2wd couldn't push through. That was pretty extreme though -it's a great yard basher for the terrain most folks have around the house.
Bumps/Whoops: The very soft suspension and high ground clearance makes for a great rough rider. The truck excels at this kind of stuff.
On-Road: On-road is where this rig handles the best. The harder tires make it so there is a bit of give so you won't worry about traction rolling, but there is still plenty of bite. If you plan to do a lot of running around a cul-de-sac or the street in front of your house, this is a good truck to do it with. As mentioned early the steering is lacking, and that's where the pavement really helps with the turning.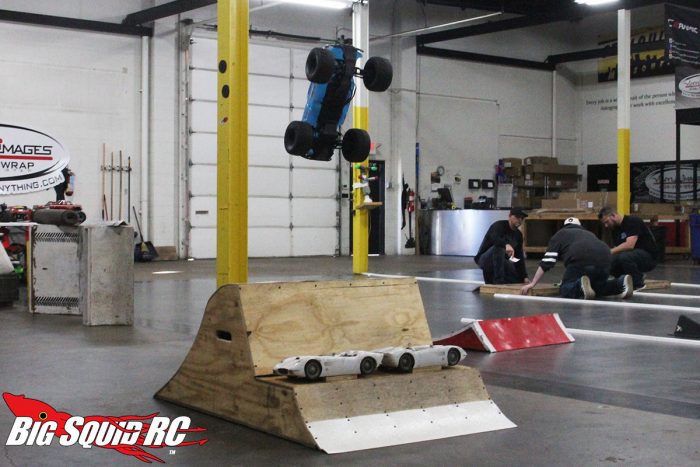 Jumping: The suspension is very plush and the truck can handle some big jumps due to this. The hardest we pushed it during testing was on a scale version of a stadium freestyle course while attending a Trigger King R/C monster truck event. These were big jumps on hard cement. No issues, there. It flies like a standard 2wd monster truck with not a lot of power, so just be aware that you aren't going to "throttle out" like a high zoot 4×4.
Tires: Tires are the most important part of a monster truck, and ECX absolutely nailed the look of these. They mimic the cosmetics of a full size 66″ BKT piece of rubber that you'd see on a Monster Jam truck. Big kudos for that. The tires are relatively hard and have no foams though, so it's standard beginner ready-to-run fare, there. Due to the hard compound, the lack of foam isn't as noticeable as it could be and the tire will clearly last a long time. They aren't performance tires in the slightest, but they look cool and will work fine for a newbie.
Power: If you are running the included NIMH battery, the brushed motor power is very soft. It was still more than enough for our newbie testers to have fun bombing around in though, as the truck was much easier for them to control versus when we put in a Lipo. Ah yes, a Lipo battery. Using one wakes it up considerably, especially on the bottom end. All-in-all, a good beginner system. Note that the Crush does not have a low voltage cutoff making LiPo usage a little risky. Consider picking up a Voltage Monitor if you are going to run LiPo like the Venom (VRN0644)
Radio: The Amp Crush comes with a small pistol grip radio that's close to 3/4 size of a standard one. Our kid testers absolutely loved this as it actually fit into their smaller hands. Given the demographic that this vehicle is going after, that's a good thing probably. Just know that if you have big adult mitts, you're gonna be very cramped when using the stocker.
As for operation, it was your standard RTR 2.4 ghz fare. Analog knobs control your trim and operation was error free.
Broken Parts: We wound up smoothing out a spur gear after repeatedly slamming it in reverse and then flooring it to pop wheelies (this is fun!) but that was it during the normal part of testing. Then we started driving it off playground equipment and other wacky stuff and it still held up. We finally blew an a-arm after clipping a tree at top speed. The truck is quite durable.
Misc Notes:
Due to the craziness of midwestern weather, part of our testing was done with temps in 50s and 60s….and also in the 20's with snow in the ground. The truck handled the shift in temperature better than our testers did!
Speaking of the snow, we actually ran this a good bit in it. While the truck was fine mechanically, 2wd doesn't lend itself well to the white stuff. The truck just won't push through snow much deeper than mid-line wheel level. It was fun throwing roosts, though!
Due to the demographic target of this release, we used more complete noobies than we usually do in our testing. Most notably a 4 year old, 7 and 8 year old…and a 35 year old with zero hobby experience. All had a complete blast getting their monster truck on for the very first time.
This truck really looks fantastic. While it may not be a solid axle monster, it sure looks the part, what-with the cool body and scale appearing wheels/tires. It looks very much inspired by the real-life Whiplash monster truck!
We did the majority of testing with the included battery, but threw in a few 2S lipo packs for good measure. That really upped the fun factor considerably. The truck would even wheelie on high bite surfaces!
On that note, if you go the lipo route make sure you get one that has a low profile as most of the 2S stick packs that we used wouldn't work with the plastic battery hold-down. We had to use a zip-tie.
Best Upgrade: A new servo and lipo battery
---
Summary:
A = Outstanding/Best in Class, B = Above Average, C = Average, D = Below Average, F = Horrific
Time To Bash: A  About as quick as can be. Everything is in the box, even transmitter batteries. You will be outside monster truckin' in the time it takes to charge the included battery with the included charger. Very hassle free.
Workability: B ECX has really stepped up their game with better hardware on this model versus a couple years ago. That, combined with a simple rear-end transmission and chassis layout makes for a vehicle easy to work on.
Car Show Rating: B  This truck looks fantastic for the price point. While not licensed, the scale appearing MT tires and bright body give the appearance of something you'd find tearing up the local stadium.
Bash-A-Bility: B The Amp Crush proved to be very durable during our testing, whether it was warm or colder temperatures. The top speed on the vehicle was relatively low though, so that's why it gets a B versus an A.
Fun Factor: C+ This truck is aimed at beginners and youngsters, so it didn't exactly leave our experienced driver's hearts a flutter. The newbies that wheeled it had an absolute blast though.
Handling: C Definitely the weakest aspect of this truck, the stock steering leaves a lot to be desired.
Value: B At a price point of just $149, you are getting a good bang for the buck. The platform is solid and you also get everything you need in the box.
Parts Availability: B Almost any hobby shop worth their salt carries Horizon Hobby parts, and the ECX monster truck line has been around for awhile now, making replacement parts for this easy to get.
BigSquid Rating: B-
The ECX Amp Crush is a very solid monster truck for the first-time hobbyist. Everything you need to get going is in the box, it's durable, looks fantastic and is easy to upgrade. It makes for a great entry point into the hobby.