THE ARRMA Granite BLX RTR Monster Truck Review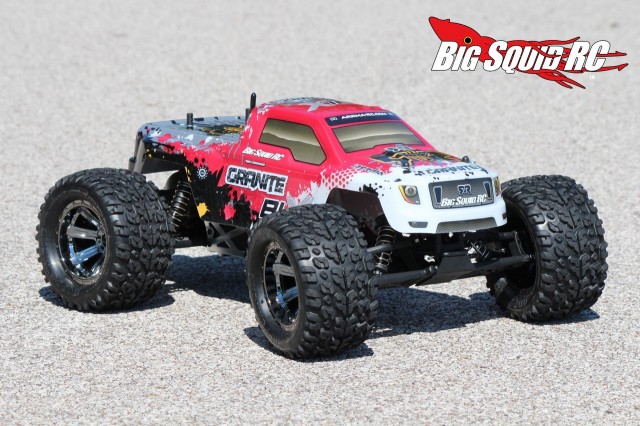 The brushed version of the ARRMA Granite was a big hit among the bashing crowd, it was tough as nails, it drove well, and it was affordable. ARRMA has upped the ante with the new Granite BLX. The BLX comes with big brushless power and is fully waterproof. Does the Granite BLX live up to the rep of the former brushed version? Click the "Read More" button to find out…
From: ARRMA
Direct Link: Granite BLX
Unboxing Pictures: BSRC Unboxes the Granite BLX
Review By: Cubby
Pictures By: Tim Mohr
Specs:
RTR or Kit: RTR
Age: 14+
2wd or 4wd: 2wd
Chassis: Aluminum
Electric or Gas: Electric
Waterproof: Yes
Scale: 1/10th
Length: 16.5″
Width: 13.4″
Wheelbase: 11.4″
Weight: 4.5 lbs w/o battery
Motor: 4 pole 3600kv brushless
Speed Controller: ARRMA BLX non-sensored
Low Voltage Cut-off: Yes
Radio: ATX100 2.4 GHz
Differential: Gear, oil filled
Slipper Clutch: Yes
Driveshafts: Bones
Shocks: Plastic bodies, oil filled
Screws: Hex
Spur/Pinion Pitch: 48p
Bearings: Full set
Tires: dBoots Copperhead all terrain
Battery: 6 cell 7.2v 5000 mah NiMH
Part Number: AR102550 (red)
Warranty: 2 year limited
Street Price: $379
Primary Competition: ECX Ruckus Brushless, Traxxas Stampede VXL
What's Needed To Complete: Not very much, just four AA batteries for the transmitter.
Build Quality: We didn't find any build issues. The pinion/spur mesh was tight, the slipper was well set, no shocks were leaking, the diff felt good.
Test Drivers: Cubby, Tim, and "Iron" Mike
Test Venues: Arnold City Park in Arnold Missouri, Cliff Cave Park in St Louis Missouri, RC Outlaws in Collinsville IL, and a CostCo parking lot.
Set-up Notes: We didn't use the included wall charger, instead we opted for a Hyperion 720 iNet3 to handle the charging duties. We used Venom AA batteries in the transmitter. We used the included 6 cell NiMH pack as well as a ProMatch 2S 5000 mah Lipo for power.
Turning: If you are on the gas, don't expect the Granite BLX to turn. Why? Because it has a lot of power and loves to wheelie, thus the front tires are often not even in contact with terra firma. While off throttle entering a corner the Granite exhibits a bit of understeer, the front tires simply don't have a lot of side bite. Steering is not one of the high points of the Granite BLX, but then it rarely is on a high powered 2wd monster truck.
Jumping: The Granite BLX responds well to throttle input for mid-air corrections. It also tends to launch fairly neutral off of jump faces. On jumps where the wheelie bar doesn't interfere the Granite launches quite well. The set-up of the suspension (damping/springs) provides for soft landings. The only downside is on jumps where the wheelie bar affects flight, but that is fixed easily enough by removing it. Coming down on the wheelie bar can make for a harsh landing, if you plan to do a lot of jumping you might as well plan on removing the wheelie bar.
Bumps/Whoops: The stock oil/spring settings are right in the ballpark for the ugly stuff. There is enough compression damping to keep the Granite from blowing through its travel, while the rebound damping isn't too fast or too slow. Add in the fact the big tires simply roll over smaller chop and the Granite drives quite well in rough conditions.
On-Road: The Granite BLX was not designed for pavement, but can be a lot of fun there. The wheelie bar keeps it from flipping over backwards and allows for some spectacularly long wheelies. The Granite traction rolls in the corners when driven aggressively, but otherwise life is quite fun on pavement.
Grass: The Granite BLX just plows right through grass, even the fairly tall stuff. The big tires, big power, and narrow chassis help it just glide through the green stuff. If most of your driving is on grass, the Granite BLX is a solid choice.
Off-Road: Off-road is where the Granite BLX was designed to be, and it's a lot of fun in the dirt. Whether it was deep mud, loose gravel, or a prepped track, the big tires, big power, and good suspension made the Granite a blast to drive. There was a bit to be desired for steering as it liked to push in the corners, but the Granite just ate up jumps, ruts, and general rubble.
Tires: The dBoots tires offered up good traction on a wide variety of surfaces. No, they didn't give race levels of traction, but for use on a wide variety of surfaces they gave decent grip and didn't wear too quickly.
Power: The ARRMA BLX brushless system has good yank on tap. The low end seems programmed a bit soft, but it comes on hard in the mid-range and just keeps on pulling up top. Wheelies are just a squirt of the throttle away, and given some practice you can ride them all block long. Btw, this was on the stock NiMH pack, tossing in a quality 2S Lipo yielded even more rip. The BLX system is capable of putting out more yank than most people could/would/should ever use.
Radio: We experienced good range and no glitching issues with the included ATX100 radio system. Weight distribution was good and the grip felt fine in hand. The foam covered wheel felt good and its relationship to the grip & trigger felt proper. While quite plain, the trigger felt fine to a wide variety of finger types.
Broken Parts: Because the previous Granite was our truck of the year, we pretty much planned out an all time epic beating for the Granite BLX. We started with our normal bashing- bouncing off pipes, curbs, and hucking off of wood ramps to pavment. Our review Granite BLX lived through our normal beating with no issues. Of course we then upped the stupid factor and broke a few parts here and there, which was to be expected, we were hitting solid objects hard, very, very hard. At the end of the day, after slamming into crazy stuff full speed and hucking from over 40 feet high to pavement we broke- a tie-rod, cracked the front top deck, popped off numerous rod ends, and tore a rear hinge pin out of its holder. Overall, it took some pretty good hits to start breaking the Granite BLX.
Misc Notes:
Kudos to the ARRMA crew on including a Deans connector stock. The Deans is more than up to the task for this application and saves you cash on having to convert it over.
Like many other RTRs, the Granite BLX comes with very small body pins. Lose them ASAP and put in either larger Associated pins or switch over to Pro-Line thumbwashers.
We aren't fans of bottom battery tray set-ups. However, the Granite's tray allows you to use pretty much any type of ROAR sized 2S Lipo. Its tray has a generous opening right where a Lipo's wires come out, thus making it quite Lipo friendly.
Our Granite BLX came set with the Lipo cut-off turned on right out of the box. Needless to say this wasn't optimal when using the included NiMH battery. Thankfully it was easy to turn off.
We measured a run-time of 12 minutes while using the stock battery.
We experienced a small amount of cogging with the BLX brushless system. This was noticeable occasionally from a dead stop.
While the new transmitter worked just fine, we missed the transmitter that the older ARRMAs came with. The old unit was easily switchable for left handed drivers and just had a unique look and feel.
ARRMA says the Granite BLX is waterproof and we have to agree. We gave our test unit some serious water testing and the Granite drove away with no issues.
Best Mod Under $5: Ok, so this may not be under $5, but it is cheap to convert the Granite over to captured rod ends. The stockers liked to pop off, converting them over is worth its weight in gold. Also of note, a free mod would be to remove the wheelie bar. This has it upsides and downsides but in certain driving conditions can make a big difference.
Best Mod Over $5: Invest in a good quality Lipo battery. A good Lipo will yield even more power and run-time.
Have you seen the video?
---
Summary:
A = Outstanding/Best in Class, B = Above Average, C = Average, D = Below Average, F = Horrific
Time To Bash: C The wall charger is stated to take over 7 hours to fully charge the included battery. Otherwise the Granite BLX is fast to hit the track with.
Workability: C The Granite isn't hard to work on, but the twin spar frame can make some wrenching more time consuming than on a flat chassis.
Car Show Rating: A The graphics are well done, we liked the body, and the wheels/tires looked sharp. Our bash crew voted it best in class for looks.
Bash-A-Bility: B The Granite can take some hard hits without breakage.
Fun Factor: A We had loads of fun with the Granite. It has plenty of power, loves deep mud, and wheelies on demand, all things that put HUGE smiles on our faces.
Handling: B The Granite BLX jumps and generally drives well for a 2wd MT.
Value: B There is a lot of fun lurking under the Granite's hood for the money.
Parts Availability: C You won't find many ARRMA parts hang'n off the pegs at your LHS but parts are readily available on-line.
BigSquid Rating: B The Granite BLX is much like its predecessor, a great bash machine that can take a good beating. However, the BLX model seriously ups the fun factor with big brushless power. The Granite BLX is loads of bashing fun, we highly recommend it.