Review – ARRMA Raider BLX Brushless RTR Buggy
THE ARRMA Raider BLX Brushless RTR Buggy Review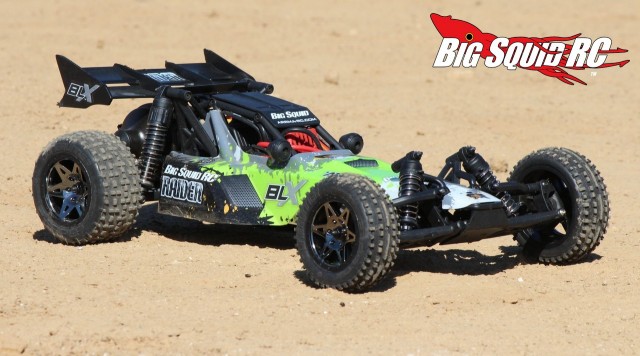 ARRMA has become known as a solid manufacture of bash worthy machines. Today we'll be giving their new Raider BLX Brushless Buggy the full bash treatment to determine whether it is worthy of your cash, or not worth a second glance. If you are looking at buying a solid bash buggy, you should read the results closely. Lets dive right in shall we? Hit the "Read More" to get this party started…
From: ARRMA
Direct Link: Raider BLX
Unboxing Pictures: BSRC Raider Unboxing
Review By: Cubby
Pics By: Tim Mohr
Specs:
RTR or Kit: RTR
Age: 14+
2wd or 4wd: 2wd
Electric or Gas: Electric
Waterproof: Yes
Scale: 1:10th
Length: 15.75″
Width: 10″
Wheelbase: 11.4″
Motor: ARRMA BLX 3600kv 4 pole
Speed Controller: ARRMA BLX non-sensored
Low Voltage Cut-off: Yes
Radio: ATX100 2.4 GHz
Differential: Gear, oil filled
Slipper Clutch: Yes
Driveshafts: Bones
Shocks: Plastic bodies/caps, oil filled
Servo Saver: In rack
Screws: Hex
Spur/Pinion Pitch: 32p
Bearings: Yes
Tires: dBoots knobbies
Battery: 6 cell 7.2v 5000 mah NiMH
Part Number: AR102558
Top Speed (measured by BSRC w/ stock NiMH): 32 mph
Runtime: 25 minutes
Warranty: 2 year limited
Street Price: $349
Primary Competition: Two wheel drive buggies aimed at the bashing market like the ECX Boost and Helion Criterion.
What's Needed To Complete: The Raider comes assembled and ready to jam. It includes a 6 cell Ni-MH pack and wall charger too. You will need to come up with 4 AA batteries for the transmitter.
Build Quality: Overall things looked good, no shock oil was leaking and we didn't find any binding, but we did find that the bolts holding in the motor were loose. We would highly recommend checking the pinion/spur mesh and tightness of the motor screws on any RTR you might buy. Also, we had one tire come loose from the wheel. Yes, we were driving it like we stole it, but the tire came loose on the stock Ni-MH pack, not that crazy of a power level.
Test Drivers: Cubby, Tim, Sam "The Noob", and Iron Mike
Test Venues: Arnold Missouri City Park, Dirtburners 8th scale track in St Louis Missouri, a CostCo parking lot, and a local cul-de-sac.
Set-up Notes: We ran the Raider bone stock, including the stock 6 cell Ni-MH battery. We did not use the supplied wall charger, instead opting to use a Hyperion 720iNet3 to handle the charging duties.
Turning: The Raider has a bit of on power push, I mean when you tag the gas the front wheels are hardly touching the ground, but it has a bunch of steering off-power. The front end typically sticks well in most corners, but the rear has a lack of sidebite resulting in spin outs.
Jumping: The suspension on the Raider was a bit light for huge hucks, but right in the ballpark for normal jumping. It didn't get too derailed by blown out jump faces and you could land a bit sideways without flipping over. Mid-air control was decent compared to other 10th scale buggies, but compared to other bash vehicles like the Granite, the Raider didn't have enough rotating mass to make major changes mid-flight. The Granite has bigger/heavier tires, a slight stab of the brakes will bring its nose down or some gas will bring its nose way up, doing the same on the Raider yielded much less response.
Bumps/Whoops: Compared to other buggies the Raider did a decent job of pounding through the whoops and blasting over braking bumps. The spring and damping rates are in the ballpark for rough track use, but the low ride height and small diameter tires on the Raider make it tougher to get through the rough if you are a general basher type.
On-Road: The Raider is quick when driven on-road and it does not traction roll unless you catch a crack in the pavement. It is low slung which helps with corner speeds, but the lack of rear side bite causes it to slide out from time to time.
Grass: Being close to the ground is great for corner speed but hurts the Raiders ability to plow through grass. The Raider gets around well in short grass, all that power and the good rear tires help there, but in tall grass you are going to be in some trouble.
Tires: The stock dBoots tires are quite soft giving the Raider good mechanical grip on slick surfaces. The included inserts are also soft, once again helping to find more traction. We did experience some fast tire wear on the rears, a soft compound combined with massive power resulted in bald tires in just a few runs.
Power: The Raider rips pretty hard. The stock brushless system has good power and when installed on the relatively lightweight Raider chassis you get up to speed in a hurry. We found a bit of delay when initially giving the Raider some throttle, but once it kicked in the low end had some serious grunt, the mid-range had the bulk of the power, and while it had a decent top speed it seemed to sign off a little early as if it needed another tooth or two on the pinion.
Radio: The radio included with the Raider gave us good range and no glitching issues. Overall it had decent ergonomics for a wide variety of hand shapes and sizes.
Broken Parts: We did a fair amount of bashing with the Raider. It took the normal portion of our bash routine without a hitch, bouncing off pipes and slamming into other cars without any breakage. However, when going huge off a wood ramp we landed nose down to pavement and the stock servo gave up the ghost earlier than we expected. We subsequently popped in a Hitec and pounded all sorts of hard objects with zero breakage of any type.
Misc Notes:
The speedo in the Raider comes set-up with the Lipo cut-off turned on. This results in the Ni-MH equipped buggy coming to a halt much earlier than it should. Before you even drive the buggy take the time to defeat the Lipo cut-off if you use the included Ni-MH pack.
The bottom mount battery tray has a good sized opening on the top, this allows the wires from just about any 2S Lipo pack to fit properly. However, it does not have a lot of extra space, if you plan on putting in a 3S pack it will have to be a very thin unit.
The Raider comes stock with a 32 pitch spur and pinion, you don't need to worry about blowing them up any time soon.
The Raider is a unique twin spar design, it definitely isn't your run-of-the-mill 2wd buggy.
We slammed some hard objects super hard without ripping off a wheel, we dig the plastic they use on the ARRMA products.
We miss the old ARRMA RTR radio that was easily switched from lefty to righty.
The included Ni-Mh was a decent quality unit that yielded decent power and 25 minutes of runtime. 25 minutes of runtime is great for a brushless powered vehicle.
Best Mod: A quality Lipo battery. A Lipo instantly takes the Raider from fast to Holy Cow.
---
Summary:
A = Outstanding/Best in Class, B = Above Average, C = Average, D = Below Average, F = Horrific
Time To Bash: C The included wall charger takes 7 hours to get the battery ready and you will have to program out the LVC from the speedo if you use the stock Ni-MH.
Workability: C The twin spar frame is super tough but it does make the buggy harder to work on. The bolted on body also slows down the wrenching process.
Car Show Rating: B The chrome wheels and snazzy graphics were well liked by the bash crew.
Bash-A-Bility: B The Raider can take some crazy hard hits, but our servo went out early.
Fun Factor: B The Raider is quick and a lot of fun to blast around a local bash spot.
Handling: C Overall handling is good, the loose rear end in corners detracts from its score.
Value: C The brushless Raider BLX comes in at $349, a good but not outstanding value.
Parts Availability: C You typically won't find ARRMA parts on your local hobby shops shelves, but they are readily available on-line.
BigSquid Rating: C+ If you are looking for a bash buggy, the ARRMA Raider BLX is fast, fun, and has a rock solid platform.
Want to see it in action? Check out the video!