THE Axial Deadbolt AX10 RTR Review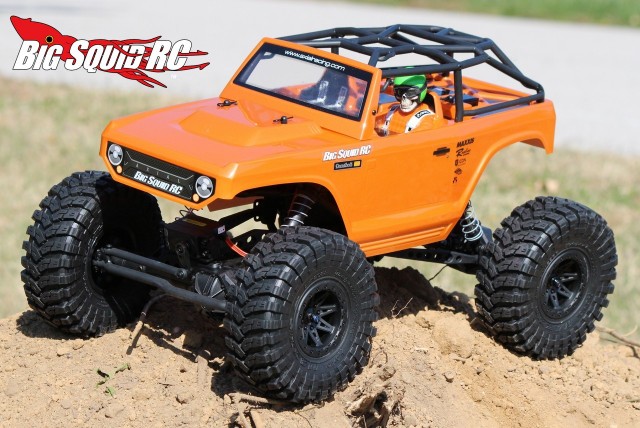 Axial has been kicking some major butt, their products are solid, their scale looks turn heads, and they have brought rc crawling (and scaling) from obscurity. Their latest release, the Deadbolt AX10, isn't radically new from them, rather it's a truck with smart updates with a cool looking off road body. We've been putting our test unit through its paces, click the "Read More" button to see if it stacks up to Axial's reputation…
From: Axial
Direct Link: AX10 Deadbolt
Unboxing Pictures: BSRC Deadbolt Unboxing
Review By: Cubby
Pics By: Tim Mohr
Specs:
RTR or Kit: RTR
Age: 14+
2wd or 4wd: 4wd
Electric or Gas: Electric
Waterproof: No
Scale: 1/10th
Length: 17.6″
Width: 11.3″
Wheelbase: 12.2″
Motor: 20 turn brushed
Speed Controller: Axial/Castle AE-2
Low Voltage Cut-off: Yes
Radio: Axial AX-3 2.4 GHz
Differentials: Locked
Slipper Clutch: Yes
Driveshafts: WB8 splined
Shocks: Plastic oil filled
Servo Saver: None
Screws: Hex
Spur/Pinion Pitch: 48 pitch
Bearings: Yes
Tires: Axial Maxxis Trepadors
Battery: Not included
Part Number: #AX90033
Top Speed (measured by BSRC w/ 2S Lipo): 18 mph
Warranty: The manual states "…to be free of defects in materials and workmanship when new in the factory sealed box.". It also states "…a 10-day warranty from the date of purchase on electronics.."
Street Price: $329
Primary Competition: 4wd ready to run rock crawlers.
What's Needed To Complete: A 6 cell NiMH or 2S Lipo for the truck, charger, and four AA cells for the transmitter.
Build Quality: We found nothing wrong with how the Deadbolt was built. Shocks were not leaking, gear mesh was good, etc.
Test Drivers: Cubby, Tim, Iron Mike, Sam "The Noob"
Test Venues: Cliff Cave Park in St Louis Missouri, a Belleville Illinois park, and a cul-de-sac
Set-up Notes: We ran the Deadbolt bone stock with the exception of ditching the stock battery connector in favor of a Traxxas unit. We used a MaxAmps 2S 6500 mAh Lipo for power, and a Hyperion 720iNet3 for charging.
Turning: While it did turn better in general bashing conditions than we thought a truck with locked diffs could, it doesn't compare to "normal" bash trucks for turning. The Deadbolt is a dedicated crawling machine so it pushes a lot and then traction rolls on most surfaces. In its element of crawling, it gets around well. The stock servo doesn't have crazy torque, but enough to get the job done when picking lines around a crawling course.
Crawling: Right out of the box the Deadbolt can get over some pretty gnarly obstacles. With locked diffs, 2.2 tires, and a buttery smooth power system, the Deadbolt can climb over things a "normal" bash truck couldn't even dream of getting over. For example, we took the Deadbolt to a local crawl spot along with a good ole' 2wd Slash. While it may have taken a few tries to get over some rock combos with the Deadbolt, the Slash didn't even have a shot of making it over. If you plan on crawling, the Deadbolt certainly fits the bill. It also worked real well right out of the box for trailing. At a local park the Deadbolt had no problem hanging with the normal crew while on a trail walk. Yes, there are a bunch of mods that can be done to increase its prowess out on the trail, but out of the box it hangs tough.
Jumping: We had a great time jumping the Deadbolt. The locked diffs and heavy rotating mass resulting in a truck that responds quickly to throttle/brake input while in the air. The Deadbolt doesn't have a lot of top speed, so don't expect to be hucking any big triples at the track, but small ramp jumps are a blast. As much as the Deadbolt feels good while in the air, it doesn't like landings. It just isn't set-up to soak up airtime, expect some bouncing when coming back down to Mother Earth.
Bumps/Whoops: Hey, its a crawling machine what do you expect? It doesn't really get going fast enough to pound the whoops, it kinda climbs in, then back out of them.
On-Road: Ya so… the Deadbolt is about as far away from a pavement machine as you can buy. It doesn't like to turn very quickly on pavement, but when it does, it traction rolls. The low top speed won't impress your friends, but the ability to pull long wheelies will.
Grass: The Deadbolt plows right through grass, even fairly tall stuff, and does not overheat. There are a lot of trucks on the market that can be driven on grass but get too hot by doing so, the Deadbolt keeps relatively cool.
Tires: While not high end uber tires for dedicated crawling, the Maxxis Trepadors worked very well on general dirt or paved surfaces. Plus, they look freak'n awesome.
Power: A 20 turn brushed motor geared low for serious grunt isn't going to impress anyone who has ever driven a 6S Revo. However, for what it is intended for, it has decent power. The power is very smooth, easy to drive, and easy to lug around at 1 mph. When needed, it has enough yank to pop wheelies.
Radio: The included RTR radio is certainly usable. We experienced good range and no glitching with it, and its ergonomics were decent. The trigger fit a wide variety of fingers without issue, and the foam on the wheel gave it a decent feel.
Broken Parts: We put the Deadbolt through some pretty ugly carnage without any issues. You can pretty much drive it like you stole it without worrying about breaking it. However, we are in the business of breaking stuff, so we had to do a mandatory roof jump. We hucked the Deadbolt off the edge of a 1 story roof and landed front wheels first, blowing up the front driveshaft.
Misc Notes:
The Deadbolt includes a total of three drivers heads to use. One, the skull head, is already mounted up and minimally painted. The other two are white so you can detail them up to suit your taste.
The stock battery tray works well for a variety of different battery packs, however it doesn't have a stop at the front of the tray. This allows the battery to slide forward towards the speedo on big front hits. You might just crawl the Deadbolt and it wouldn't be an issue, but if you plan on doing general bashing you might want to rig something up to help keep the battery from sliding forwards.
Yes, we ran the Deadbolt on 3S for a couple of runs, it's in our DNA. Top speed increased minimally (to 21 mph) but it gained a decent bit of low end punch.
We did not formally measure runtime with our review Deadbolt. Why? Because we knew from driving it that it would be insanely long. We got over 30 minutes with a MaxAmps 6500, and it wasn't near being dead when we stopped driving. The key point here is, if you like to drive for a long, longggg time, the Deadbolt will make you happy.
The speedo is set up to go directly from forward to reverse, and vice versa. This is fantastic fun (but hard on driveline parts).
The Deadbolt is great at "self marshalling". What does that mean? It means that many times you can hit the gas and turn the wheels and it will pop back upright. That is awesome in our book, we hate the "walk of shame" after a crash.
Best Mod Under $5: Ditch the stock Tamiya connector in favor of a Deans or Traxxas.
Best Mod Over $5: One set of heavy duty MIP center driveshafts please.
---
Summary:
A = Outstanding/Best in Class, B = Above Average, C = Average, D = Below Average, F = Horrific
Time To Bash: B The Deadbolt didn't come with a battery or charger and we prefer it that way. It came set-up very well, requiring minimal time to hit terra firma.
Workability: B The Deadbolt has as simple layout where everything is easy to get a wrench on.
Car Show Rating: B The staffers generally liked the look of the included body. The uber wheels/tires, the extra heads, and the roll cage were nice details.
Bash-A-Bility: B We treated the Deadbolt like most review vehicles, very poorly, and did all the stuff you are Not supposed to do, yet it held up well for us.
Fun Factor: B None of our reviewers could be considered avid crawlers or scalers, yet we had a good time with the Deadbolt. It was fun to crawl, but even more so to wheelie and pull side spins while general bashing.
Handling: C For general bashing you would be way better off picking up an Exo from Axial, for crawling the Deadbolt holds its own very well.
Value: C It's cheaper than a Wraith but a bit more than a Ridgecrest while yielding similar performance to both.
Parts Availability: B We rarely award anything better than a "C" for parts availability (unless it is a Traxxas), but a whole lot of local hobby shops are carrying Axial parts. Not every shop you hit will have parts on the pegs, but a surprising amount will.
BigSquid Rating: B- If you are a crawler the Deadbolt is a good machine to add to the collection or build off of. If you are a basher, the Deadbolt is a great first crawler. The Deadbolt is a fun machine to bash around the yard with, or to hook up with some friends and go on a legit trail run.
Check out the video of it in action!