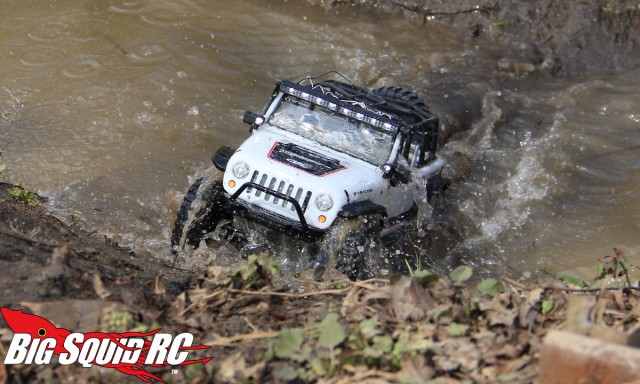 Scale 4×4's are white hot right now, and one of the trucks leading the charge is the Axial SCX10. The latest version to come down the pike is the sweet looking Casey Currie themed Jeep Wrangler Unlimited C/R Edition. Is this RTR JK worth your hard earned duckets? Click the "Read More" to find out.
From: Axial
Direct Link: Jeep Wrangler Unlimited C/R Edition SCX10
Unboxing Pictures: BSRC Jeep Wrangler Unlimited C/R Edition SCX10 Unboxing
Review By: Doug Welker
Pictures By: Doug Welker
Specs:
RTR or Kit: RTR
Age: 14+
2wd or 4wd: 4wd
Shaft or Belt: Shaft
Electric or Gas: Electric
Waterproof: No
Scale: 1/10
Length: 21.25"
Width: 9″
Height: 9″
Ground Clearance: 2.7″
Wheelbase: 12.3″
Motor: 27 turn brushed
Speed Controller: Axial AE-2
Low Voltage Cut-off: Yes
Radio: Axial AX-3 2.4 ghz
Differential: Locked
Slipper Clutch: Yes
Driveshafts: Plastic
Shocks: Oil filled, plastic threaded body, dual stage springs
Servo: Tactic TSX45
Screws: Hex
Tires: Axial BF Goodrich Krawler T/A (R35 Compound)
Part Number: AX90035
Top Speed (measured by BSRC): 9 mph
Runtime (on 2S 5000mAh LiPo): 35 minutes (if trailing i.e. not WOT you can get around 2 hours)
Street Price: $409
Primary Competition: Vaterra Twin Hammers, RC4WD Trail Finder 2, Gelande 2, Traxxas Telluride, Gmade Sawback
What's Needed To Complete: 4 AA's for the transmitter and your battery/charger of choice.
Build Quality: Very nice fit and finish, good gear mesh, no loose screws. One of the light lenses had fallen out during shipping but snapped right back into place.
Test Drivers:  Tim "The Professional" Mohr, Lily "the Explorer", and yours truly, "Scaler" Doug
Test Venues: Bangert Island Park in St. Charles, MO, Minnie Ha Ha Park in Fenton, MO, a construction yard, my house and an office parking lot
Set-up Notes: We left the truck "as is" except for changing out the Tamiya style battery connector for a Deans unit. The battery we used was a Duratrax Onyx 2S 5000mah 25c Lipo, with a Duratrax Onyx 235 for charging duties.
Turning: One of the C/R Edition's big features is that it comes with a Tactic TSX45 servo. It's definitely noticeable versus your everyday run-of-the-mill RTR servo. Despite having locked diffs, the big Jeep turns relatively tight. Unfortunately, those same locked diffs (along with a heavy body and big tires) give the JK a nasty case of traction roll at speed. Our testers commented that it feels more "roly poly" than other SCX10s we've driven.
Jumping: Even though this is primarily a crawler, we wouldn't be Big Squid if we didn't jump the heck out of it. Well, jumping is sort of a misnomer…I'd call it "falling". Every time we hit a ramp the Jeep just sort of fell off the end. It can be a lot of fun to hit smaller jumps though, as hitting a log full speed can shoot the truck up in the air much like a 1:1 monster truck. The suspension handled big drops well enough, but you'll want to seriously upgrade the power system if you are looking for actual hang time.
Bumps/Whoops: When hitting bumpy terrain the truck handles itself well enough, but it's too slow to seriously hit a rhythm section like a buggy. The full time 4wd means the truck will stay straight as long as the trigger is pinned, though.
On-Road: Being a dedicated trail machine doesn't lend itself well to pounding the tarmac. Many of the features that help the truck power through the muck really hurt it on road. It rolls over very easy when turning under heavy throttle. The included foams are too soft for serious road running.
Grass: The high ground clearance and locked differentials make short work of grass. We ran it through heavy leaves and mulch and there was still no stopping it. If you enjoy bashing on the green stuff, the Jeep won't leave you hangin'.
Crawling/Trailing: This is where the truck is in it's element. The sticky tires and flexible suspension allow the rig to take on pretty much anything you throw at it. The big KRAWLER T/A tires will latch onto whatever they touch and the servo has the juice to yank the wheels where you want them….well, at least they would if the stock plastic steering arm allowed it. If you are going to be doing some heavy rock crawling you'll want to get an aluminum steering linkage setup so you don't have slop. We trailed the truck on a wide variety of terrain; dirt, gravel, sand, mud, mulch, and logs and it worked well on all of it. It's a serious trail machine.
Water: The truck is NOT rated as waterproof from the factory but that doesn't mean anything to us. We view that more as a dare than a warning. I hit several creeks (overflowing from recent rain) and the SCX10 ripped through them with no problem. I never once experienced a glitch even after submersion.  Obviously when you are talking water and electronics then your mileage may vary, but our test rig forded small streams and mud holes with no problem.
Tires: These are the new gold standard as far as ready to run scale crawling tires. The 1.9 size licensed BF Goodrich KRAWLER T/A's found on the JK are extremely soft and tall. At 4.7" height, they stand toe to toe with popular aftermarket options like the Pro-Line XL TSL and Pit Bull Rock Beast.  They work really well as an all around bash tire with the exception of pavement (see the the "on-road" section above).
Broken Parts: After a day of trailing and bashing we hadn't broken anything so we started to get stupid. After several tumbles off the top of a porta-potty we managed to strip out a steering arm. After a quick repair we then ran it into several trees at full speed repeatedly (thanks to my 3 year old Lily for helping out with this) and it held together. In an attempt to finally do it in we chucked it off a sundeck where it wound up breaking a plastic knuckle. All in all a very durable machine. Yes, part of this is attributed to the low speed, but our extreme durability testing proved it to be a very tough customer.
Misc Notes:
The scale Rigid Industries lights are very cool and, in addition to just looking trick, will let you run all night long. They are plenty bright for night runs and durable enough to survive many a crash. The bar houses 8 LED's with two addition lights mounted by the windshield for a grand total of 10. The wiring job is also very clean with a harness underneath the body and a simple hook up so you can choose to run them on or off. Very nice.
The battery mounts in the rear of the truck which is not preferred. It's easy enough to move it up front but it would be nice to see it setup this way from the factory. Once the battery is up front the truck turns into a billy goat, capable of climbing some crazy stuff. You will want to do this ASAP if you want to do any serious crawling or hill climbing.
It's hard to argue with the proven performance and reliability of the SCX10 chassis, but given that it's pretty much the same one that's been on the market for several years now we think it would be cool to see a significant update in a future release. Heck, since Axial has the Jeep license it would be neat to see an old Renegade or Scrambler based on a tweaked platform.
Best Mod Under $5: Move the battery up front.
Best Mod Over $5: Aluminum steering and bottom 4 links.
---
Summary:
A = Outstanding/Best in Class, B = Above Average, C = Average, D = Below Average, F = Horrific
Time To Bash: C While the truck is ready to run, you'll need to add your batteries to the transmitter and then have your own battery/charger setup. There is a good chance you'll have to change out the battery plugs if you aren't using old Tamiya style connectors.
Workability: B The C/R Edition Jeep is very easy to work on. The straight rail frame makes any component easy to access with just a few screws.
Car Show Rating: A The big tires, trick looking lights, and scale Jeep body make this a slick looking package. You'll turn heads whether on the trail or at the bash spot.
Bash-A-Bility: A The truck was very tough with nothing actually breaking until we shot put it off a sun deck. Even then it just broke a knuckle. For trailing/crawling the C/R Edition SCX10 is an awesome platform and shouldn't let you down while out in the wilderness. It was built to run hard.
Fun Factor: B If you are looking for a scale 4×4 you'll have a blast with the C/R Edition. It's an exceptional climber (more so if you move the battery mount to the front), blasts through grass or mud, and looks really cool. It's also a lot of fun to wheel at night thanks to the included light system. For general bashing you may want to consider something a bit faster like the faster and taller Axial Deadbolt.
Handling: C The included servo has nice response and will make sure the wheels are turned where you want em'. At low throttle it handles surprising well for a locked diff machine, but at speed (even with a low top speed like our tested 9 mph) it gets a nasty case of the wobbles. Traction rolling is also very frequent.
Value: B Anytime an r/c gets over the $400 price point it better be packed with features. Luckily this one is. Compared to the similarly priced standard Axial RTR Jeep Wrangler at $379, you are getting a fully functional light system, an upgraded steering servo, and a really nice set of tires for only $40 more. That's good bang for the buck.
Parts Availability: B Axial parts are readily available at many a local hobby shop thanks to the explosion in popularity of scaling. The SCX10 also has a thriving aftermarket community so it's easy to customize the truck how you want.
BigSquid Rating: B The Axial SCX10 C/R Edition is a stout truck with a lot of curb appeal. While speed freaks may want to look elsewhere, a prospective scaler will dig it. It's tough, looks awesome, and can tackle almost anything you throw at it on the trail.