Review – Axial SCX10 Ram Power Wagon
THE Axial SCX10 Ram Power Wagon Review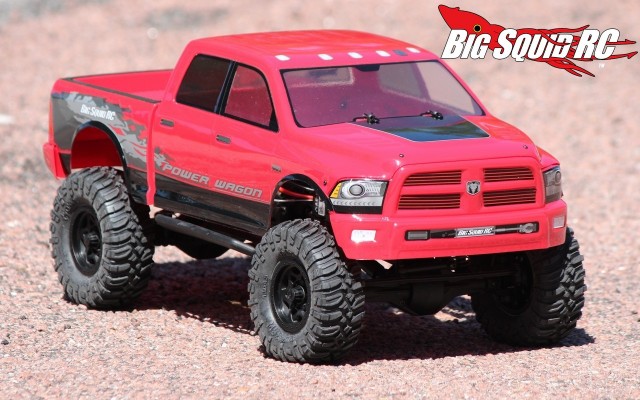 There is no doubt that Axial is scalding hot right now. Everything they touch seems to turn to gold and for good reason, they've been putting out some incredible looking vehicles that can take all you can dish out. Their latest version of the SCX10 is the Ram Power Wagon. Does the Ram live up to the Axial reputation? Can it hold its own on the trail? Is it worth your cash? Hit the "Read More" to find out…
From: Axial
Direct Link: Ram Power Wagon
Unboxing Pictures: BSRC Unboxes the Ram
Review By: Cubby
Pictures By: Tim Mohr
Specs:
RTR or Kit: RTR
Age: 14+
2wd or 4wd: 4wd
Shaft or Belt: Shaft
Electric or Gas: Electric
Waterproof: ESC yes, servo water resistant
Scale: 1/10
Length: 19.4″
Width: 9″
Wheelbase: 12.3″
Weight: 3.98lb
Motor: 27T brushed
Speed Controller: Axial AE-5 forward and reverse, up to 3S LiPo
Low Voltage Cut-off: Yes
Radio: Axial AX-3 2.4GHz
Differential: Locked front and rear
Slipper Clutch: Yes
Driveshafts: Center sliders
Shocks: Plastic bodies, oil filled
Servo Saver: None
Screws: Hex, metric
Spur/Pinion Pitch: 32 pitch
Bearings: Yes
Tires: Axial 1.9″ Ripsaw
Battery: Not included
Part Number: #AX90037
Top Speed (measured by BSRC): 12 mph on 2S LiPo
Runtime: Hey, it's a crawler, longer than we care to measure, LOL.
Warranty: "…free from defects in material and workmanship when new in the factory sealed box."
Street Price: $359
Primary Competition: Other RTR 1.9 crawler/trail machines from Axial and RC4WD.
What's Needed To Complete: A battery for the truck, a charger, and AA batteries for the transmitter.
Build Quality: We did not find anything amiss. Screws were tight but not stripped, the pinion/spur mesh was spot on, and the shocks felt good.
Test Drivers: Most of our regular crew- Iron Mike, Sam the Noob, Tim, Bobby G, and yours truly.
Test Venues: Cliff Cave Park in St Louis Missouri, Minnie Ha Ha Park in Fenton Missouri, Arnold City Park in Arnold Missouri, CostCo parking lot, and St Louis Dirtburners off-road track.
Set-up Notes: We ran the Axial bone stock. For juice we used a 2S 6500mAh MaxAmps LiPo, for charging we used a Hitec X1 Pro.
Turning: The soft tires, soft foams, and loads of drag brake result in a truck that truly plants the tires going into a corner. Yes, even with locked diffs it turns where you point it. It does have a downside though, all that weight up high means the occasional traction roll.
Jumping: With a low top speed don't expect to catch a lot of air with the Axial Ram, that just isn't what it was made to do. However, once you do get airborne, it responds quickly to trigger input and the suspension soaks up landings better than expected.
Bumps/Whoops: With very little top speed most bumps and ruts are easily soaked up by the plentiful suspension travel of the Ram Power Wagon.
On-Road: Yes, you can drive the Axial on-road, but it was never designed for that, and it does not shine there. The low top speed makes covering a large area tedious, while it often traction rolls while turning. If on-road is your thing, use your cash on the Axial Yeti.
Grass: Traction rolling can be an issue when driving in the green stuff, but we had plenty of fun bashing the Axial in grassy areas.
Tires: How about them Ripsaws? We found them to be a great all around tire. Their soft compound and inserts gave them good traction while rock crawling, while their general tread design worked great on the loose/loamy dirt found at most bash spots. In fact, out of all the tires currently offered from Axial on their RTRs, the Ripsaws just might our favorite for all around bashing.
Power: While there isn't a whole lot of wattage on tap, the stock motor works for what it was designed to do, crawl rocks. It has very snappy grunt right off the very bottom, but goes soft in the mid-range and signs off super early at 12 mph. For crawling, there is plenty of power on tap, and it is very controllable power, making it easy to get through rough sections. For general bashing, the 12 mph top end gets old quick, but that is easily fixed for those looking for more yank up top.
Radio: Standard fare here, the AX-3 is used on a number of Hobbico products and does a solid job for an RTR transmitter.
Broken Parts: We didn't break many parts on the Ram. In general bashing, we didn't break anything, so of course we had to step up the heat. After some "OMG lets jump it off that roof!" moments, we did manage to break the stock servo arm and blow out the front driveshaft.
Misc Notes:
Ok, the ESC comes with the drag brake set at 100%. That works really well when you are scaling rocks at 2 mph. Where it does not work is everywhere else. For normal driving/bashing, it results in a truck that instantly goes to 100% brake every time you go to neutral. This results in a huge weight shift forward, and a nose wheelie. A jumper on the speedo makes this easy enough to change, but out of the box the drag brake makes the truck difficult to drive.
The included body is quite uber. It is a multi-piece unit, which is a must when you are going for the type of scale realism that is demanded by consumers now days.
About those tires, when you look at the truck from the drivers side, the tire tread angles forward, when you look at it from the passenger side, the tread angles rearward. No matter how you mount the Ripsaws on the wheels, they will always be that way. While we didn't notice any big difference in handling from one direction to the other, the tire tread just doesn't look right on one side of the vehicle.
We found the stock servo did a decent job. It had enough power for casual crawling and it seemed plenty quick enough for the driving we were doing.
Attention to detail? We were digging the axle nut covers that come stock on the Ram. Yet another step closer to scale realism perfection.
The front mounted battery helps the Ram when crawling, but keeps it from easily pulling wheelies when bashing.
The shocks have non-functional reservoirs on them, but once again, some very cool scale attention to detail.
We took our Ram on a moderately long trail drive. After dialing out the drag brake, we found the Ram a blast to drive, and we were getting over pretty much everything that the modded 1.9s were.
Best Mod Under $5: Get out those wire cutters and ditch the stock Tamiya plug. Solder up a high quality unit from Deans or Traxxas.
Best Mod Over $5: We would bolt on some MIP center driveshafts and continue to drive the tires off the thing.
---
Summary:
A = Outstanding/Best in Class, B = Above Average, C = Average, D = Below Average, F = Horrific
Time To Bash: B It was fast and easy to get the Ram ready to jam.
Workability: B We found the Ram easy to spin wrenches on.
Car Show Rating: A All our testers loved how the Ram looked. The body is exceptionally nice, the axle nut covers and shock reservoirs are nice touches, and the wheels/tires looked sweet.
Bash-A-Bility: B Overall the Ram is quite tough, we had to get extreme to bust parts on it.
Fun Factor: B The tires and general set-up of the Ram make it a blast to crawl and trail drive with.
Handling: C While the stock set-up is great for crawling, it doesn't work so well for general bashing.
Value: B The $359 price point isn't cheap, but we feel the overall package is well worth the price.
Parts Availability: B While there aren't as many Axial parts on hobby shop pegs as there are Traxxas, a whole lot of hobby shops are stocking SCX10 parts.
BigSquid Rating: B The Axial Ram Power Wagon is a rock solid trail/crawling machine with amazing scale detailing. We can highly recommend it to you.